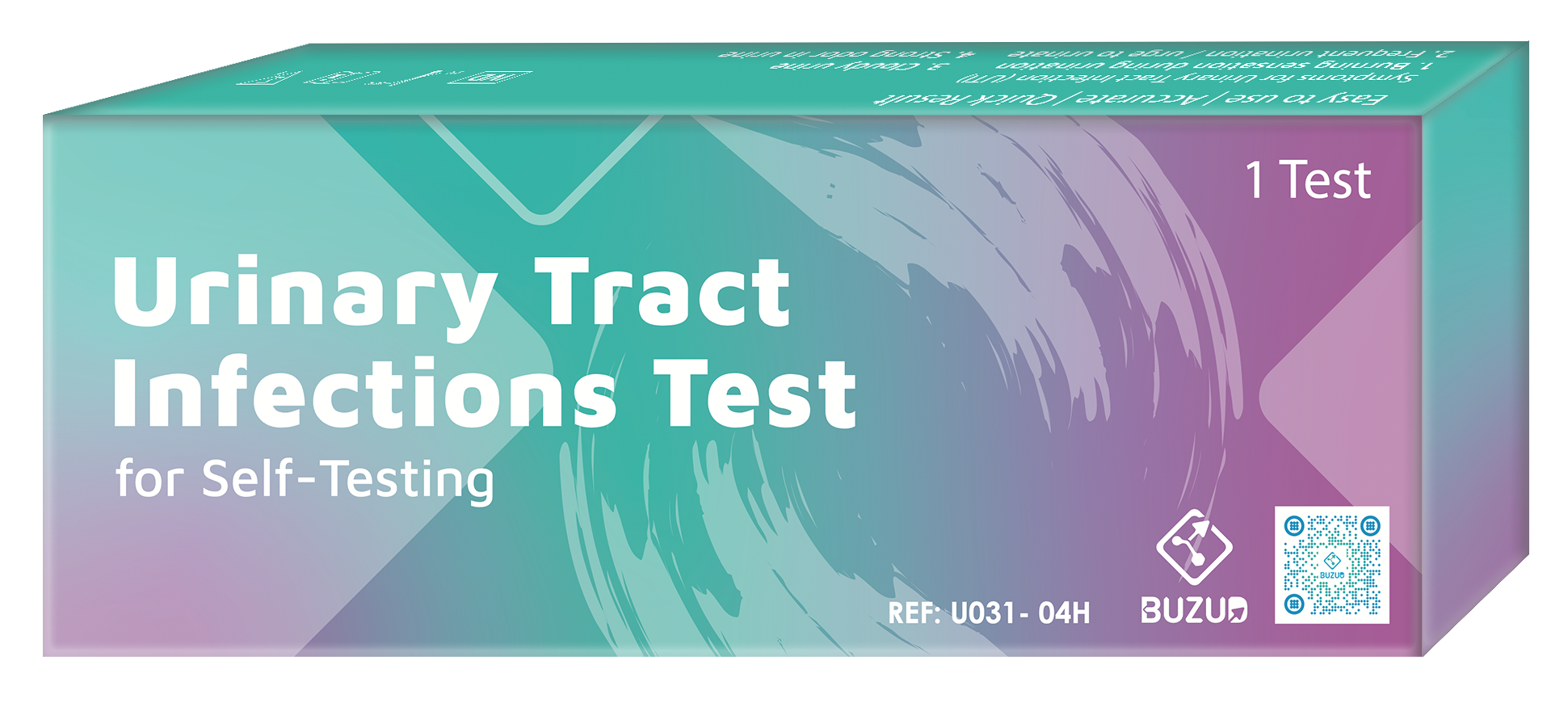 DESCRIPTION
The Urinary Tract Infections Test for Self Testing is a single use self test kit to test for urinary infections. It detects the following analytes in urine: Leukocytes, Blood, Nitrite and Protein. The presence of any of these analytes in the urine means that there may be an infection in the urinary system or some other issue. It is recommended to consult a doctor for a further diagnosis and treatment. 
FEATURES
Urinary tract infections (UTIs) are bacterial infections that affect the urinary system. UTI tests analyzes a urine sample to identify the presence of bacteria, white blood cells, or other indicators of infection.
Rapid results: UTI tests provide quick results within a short period, usually within a few minutes and this enables prompt diagnosis and treatment of UTIs.
Non-invasive testing: UTI tests are non-invasive and require only a urine sample. They do not involve any invasive procedures or discomfort for the individual being tested.
Easy to use: UTI tests are designed for simplicity and convenience. Clear instructions for collecting urine sample and performing the test is included. User-friendly!
High accuracy: UTI tests utilize validated techniques and technologies to ensure reliable and accurate results in detecting UTIs.
Identification of specific bacteria: UTI tests can identify the specific bacteria causing the infection, such as Escherichia coli (E. coli) or other common pathogens. This information can guide a person to seek appropriate antibiotic treatment as soon as possible.
Point-of-care testing: UTI tests can be performed at the point of care, such as in a doctor's office, clinic, or laboratory. This facilitates quick decision-making and immediate initiation of appropriate treatment if necessary.
Monitoring treatment effectiveness: UTI tests can be used to monitor the effectiveness of antibiotic treatment for UTIs. Follow-up testing after treatment helps determine if the infection has been successfully cleared.
REimagined Healthcare with
BUZUD Care Experience:
585 North Bridge Road,
#01-02 Raffles Hospital,
Singapore 188770
Call: +65 6518 9959
Email: customercare@BUZUD.com
BUZUD is a Singapore Healthcare and Aesthetics brand.
CERTIFICATION
This product supported by Fosun Information Technology, is approved by Singapore Health Sciences Authority (HSA), and is also widely approved by health authorities globally.
DISCLAIMER
Information provided herein is not intended as dispensing medical advice(s). User(s) should consult their doctor for any doubt or to seek further clarification prior to use of the said product.
User(s) is / are advised to refer to the product manual provided for more details and instructions of use. We shall not be held responsible for all informations presented herein which is merely consolidated as a product overview with descriptions in general.
All images presented herein are for illustration and visual purposes only, and may varied from the final product delivered. Actual specifications, weight, and prices of the product may deviate, and  subjected to change(s) at any time.