SPECIFICATIONS
Size: 342x120x242mm
Weight: Approx. 3.23 kg
Working environment:
Temperature: Working temperature: 0 – 40°C ; Transportation and storage temperature: -20 – 60°C
Humidity: Working humidity: <= 85% ; Transportation and storage humidity: <= 93%
Altitude: Working altitude: -500 – 4,600m (-1,600 – 15,000 feet) ; Transportation and storage altitude: -500 – 13,1000m (-1,600 – 43,000 feet)
Voltage: 100 – 240 (V)AC, 50/60 (Hz) ; Pmax=70VA ; FUSE 2AL 250V
CLASSIFICATION
Standard electric shock resistance class: I class electric shock resistance equipment
EMC class: A class
Standard degree of resistance to shock: ECG (RESP) is CF type; TEMP, Sp02, NIBP are BF type
Degree of preventing from liquid in: IP22
Sterilization/Disinfection method: detailed information refer to Chapter 5 of User Manual
Working mode: continuous working
Duration of use: 5 years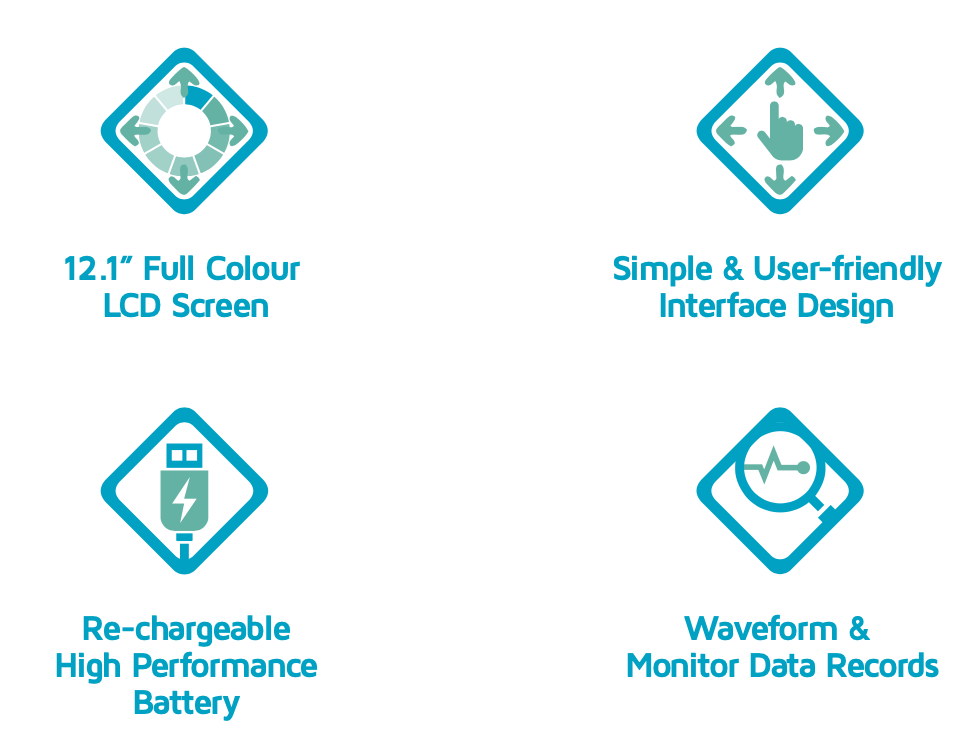 FEATURES
Comprehensive monitoring: A Multi-Parameter Patient Monitor can monitor multiple vital signs simultaneously, including blood pressure, heart rate, respiratory rate, temperature, and oxygen saturation. This can provide healthcare professionals with a comprehensive view of a patient's health and help them to identify any potential issues early on.
Customizable alarms: The device can be programmed to set customized alarms that alert healthcare professionals to any abnormal readings or changes in a patient's condition. This can help to ensure that patients receive timely and appropriate care.
User-friendly interface: The device has a user-friendly interface that makes it easy for healthcare professionals to navigate and interpret patient data. This can be particularly helpful for individuals who may have difficulty using more complex medical devices.
Portable and flexible: Multi-Parameter Patient Monitors are designed to be portable and flexible, making them easy to use in a variety of healthcare settings, including hospitals, clinics, and home care settings.
Accurate and reliable: The device is designed to provide accurate and reliable readings, which can help healthcare professionals to make informed decisions about patient care.
Trend analysis: The device can store and analyze patient data over time, allowing healthcare professionals to identify trends and patterns in a patient's health. This can help to inform treatment plans and improve patient outcomes.
Data integration: The device can integrate with other healthcare technology, such as electronic health records, to provide a more complete picture of a patient's health. This can help to improve communication and coordination between healthcare providers.
Multiple language options: The device can be programmed to display data in multiple languages, making it easier for healthcare professionals to use in diverse healthcare settings.
Affordable: Multi-Parameter Patient Monitors are an affordable option for healthcare providers who need to monitor multiple vital signs simultaneously. This can make it easier for healthcare providers to offer high-quality care without breaking the bank.
Battery:
4000mA 11.1V lithium battery
More than 60 minutes working capability
When the low power indicator gives an alarm for the first time, the patient monitor can still work for 5 minutes.
Maximum rechargeable time of battery should not be over 6 hours
Display Information:
Display: 12.1 inch
Resolution: 800*600
At most 8 waveforms display
One alarm indicator (yellow/red)
One working indicator (green)
One battery charge state indicator (green)
Three modes in accordance with the alarm state
REimagined Healthcare with
BUZUD Care Experience:
585 North Bridge Road,
#01-02 Raffles Hospital,
Singapore 188770
Call: +65 6518 9959
Email: customercare@BUZUD.com
BUZUD is a Singapore Healthcare and Aesthetics brand.
CERTIFICATION

This product supported by Fosun Information Technology, is approved by Singapore Health Sciences Authority (HSA), and is also widely approved by health authorities globally.
DISCLAIMER
Information provided herein is not intended as dispensing medical advice(s). User(s) should consult their doctor for any doubt or to seek further clarification prior to use of the said product.
User(s) is / are advised to refer to the product manual provided for more details and instructions of use. We shall not be held responsible for all informations presented herein which is merely consolidated as a product overview with descriptions in general.
All images presented herein are for illustration and visual purposes only, and may varied from the final product delivered. Actual specifications, weight, and prices of the product may deviate, and subjected to change(s) at any time.