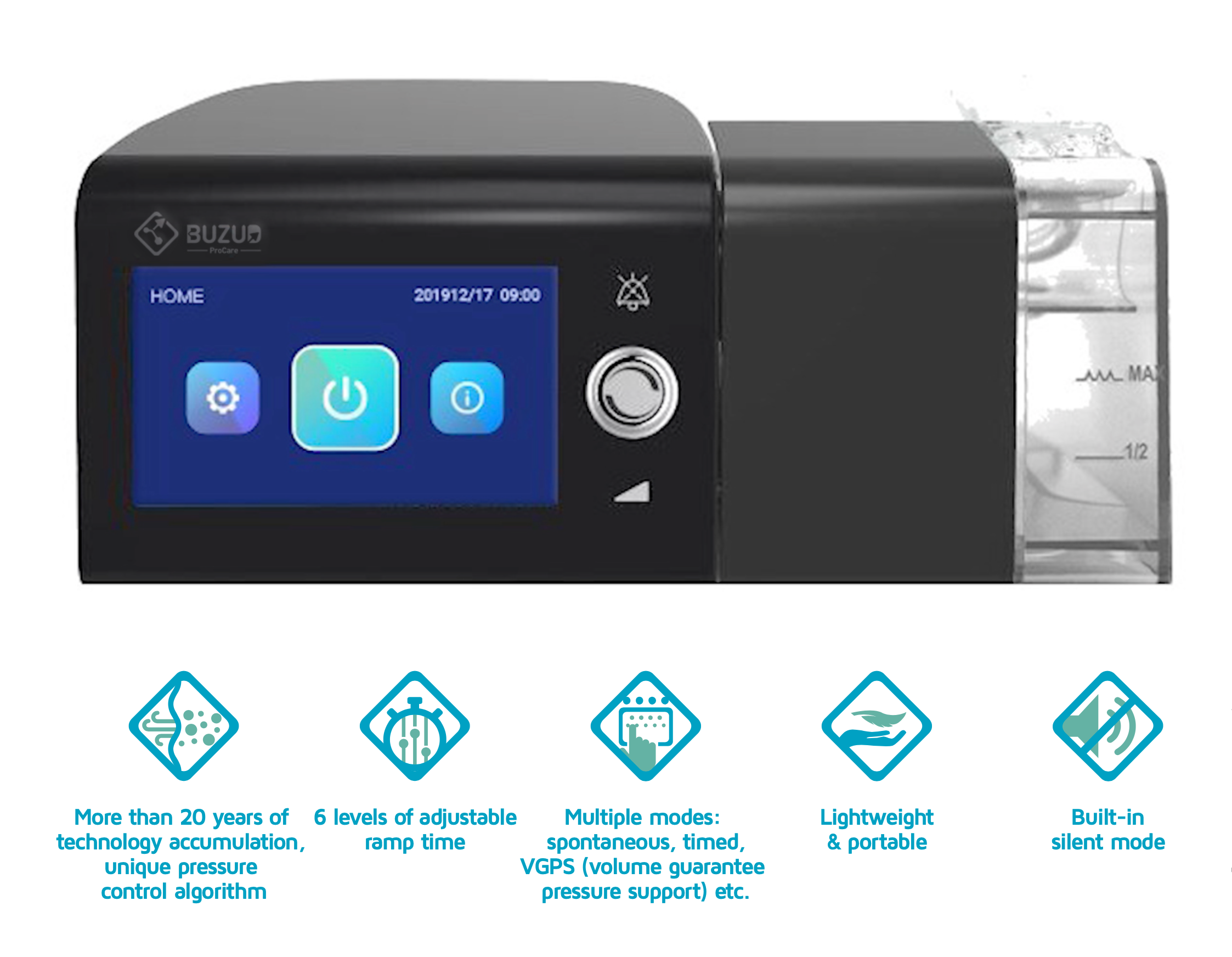 FEATURES
4.3 inch high resolution touchscreen and highly flexible navigator knob
6 levels of adjustable ramp time
More than 20 years of technology accumulation, unique pressure control algorithm
Multiple modes: Spontaneous, Timed, VGPS (Volume Guarantee Pressure Support) etc.
Light-weight, portable and silent
SPECIFICATIONS
Device Dimensions: 160mm × 148mm × 99.5mm, or 247mm × 148mm × 99.5mm (with the humidifier)
Weight: 0.82 kg, or 1.26 kg (with the humidifier)
Operation, Transport and Storage
Operation: Transport and Storage
Temperature: 5 to 35°C; -20 to +60°C
Humidity: 10% to 93% Non-condensing; 10% to 93% Non-condensing
Atmospheric Pressure: 760 to 1060 hPa; 500 to 1060 hPa
Pneumatic flow path as shown in the diagram below: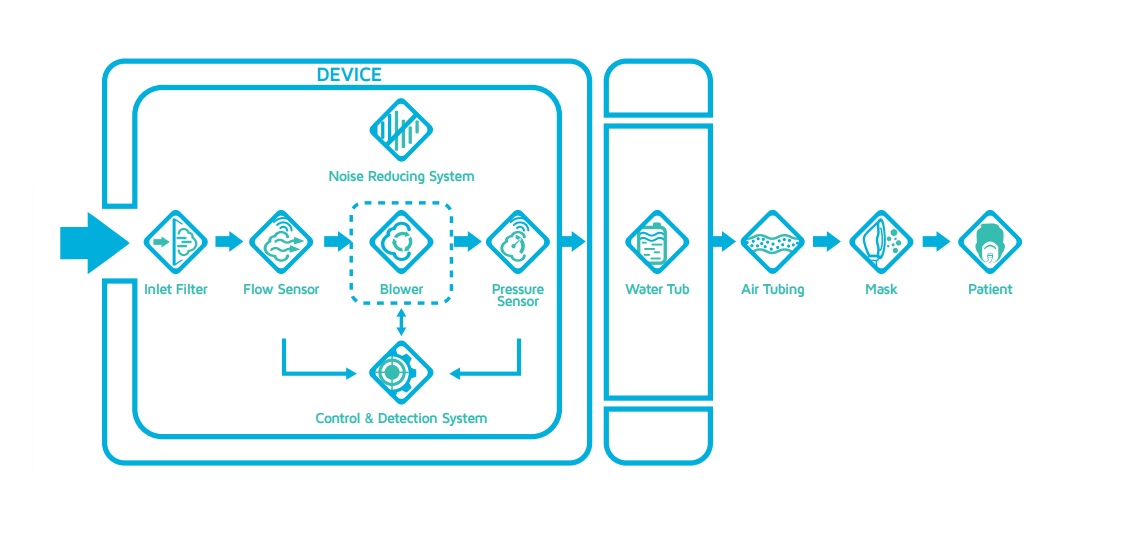 Mode of Operation : Continuous
Mode: CPAP, AUTOS, S, ST, T, VGPS
SD Card: With a capacity ≥ 8 G, the SD card can record patient data and fault information.
AC Power adapter (Model: DA-80A24)
Input: 100-240VAC, 50-60 Hz, 2.0 A
max
Output: 24Vdc, 3.33A
Main Device:
Input: 24Vdc, 3.33A max.
Type of Protection Against Electric Shock: Class II Equipment
Degree of Protection Against Electric Shock: Type BF Applied Part
Degree of Ingress Protection: IP22
Pressure Range
AUTOS, ST, T, VGPS: 4 to 30 cm H2O(4 to 30 hPa)
CPAP : 4 to 20 cm H2O (4 to 20 hPa) ≤40 hPa under single fault conditions.
Ramp time: The ramp time ranges from 0 to 60 minutes.
Sound Pressure Level: <30 dBA when the device is working at the pressure of 10 hPa.
Sound Power Level: <38 dBA when the device is working at the pressure of 10 hPa.
Measurement system uncertainties
In accordance with ISO 80601-2-70:2015 the measurement uncertainty of the manufacturer's test equipment is:
For measures of flow: ±2% of reading or 0.05 Std L/min, whichever is greater
For measures of pressure: ±0.5% for full scale (15.6 – 25.6), ±1.5%for full scale (0-15.6°C 15.6 – 40°C)
Pressure accuracy
Maximum static pressure variation at 10cm H2O (10 hPa) according to ISO 80601-2-70:2015 ±(0.5 hPa +5% of the set pressure)
Tube
Length: 1.8m
Inner diameter: 19mm
The Form and the Dimensions of the Patient Connection Port
The 22mm conical air outlet complies
with ISO 5356-1
SpO2 (Optional)
Range: 70% – 100%
Accuracy: ±3%
Pluse Rate (Optional)
Range: 20-250BPM
Accuracy: ±3digits
Wireless module (Bluetooth, Optional)
Frequency range: 2,402-2,480 MHz
Maximum output power: +4.0dbm
Modulation: GFSK
Wireless module (WiFi, Optional)
Frequency range: 2,412-2,484 MHz
Maximum output power: +20.0dbm
Modulation: CCK, OFDM
REimagined Healthcare with
BUZUD Care Experience:
585 North Bridge Road,
#01-02 Raffles Hospital,
Singapore 188770
Call: +65 6518 9959
Email: customercare@BUZUD.com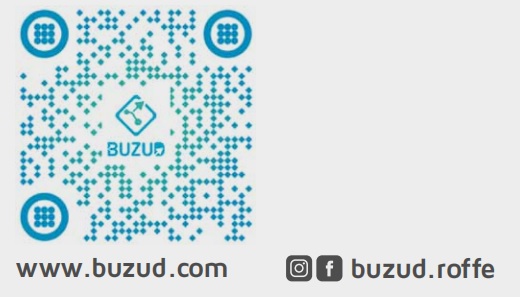 BUZUD is a Singapore Healthcare and Aesthetics brand.
CERTIFICATION
This product supported by Fosun Trade Medical Device, is approved by Singapore Health Sciences Authority (HSA), and is also widely approved by health authorities globally.
DISCLAIMER
 Information provided herein is not intended as dispensing medical advice(s). User(s) should consult their doctor for any doubt or to seek further clarification prior to use of the said product.
User(s) is / are advised to refer to the product manual provided for more details and instructions of use. We shall not be held responsible for all informations presented herein which is merely consolidated as a product overview with descriptions in general.
All images presented herein are for illustration and visual purposes only, and may varied from the final product delivered. Actual specifications, weight, and prices of the product may deviate, and subjected to change(s) at any time.