Buzud Hearing Aids now available!
Did you know? In Singapore, it is estimated that around 5% to 7% of the Singaporean population has some degree of hearing loss. This equates to approximately 360,000 to 500,000 individuals. The prevalence of age-related hearing loss tends to increase with age. In Singapore, it is reported that around 40% of individuals aged 60 and above have some form of hearing impairment.
BUZUD cares for you. This May, we are announcing the launch of our series of hearing aids. Hearing aids are electronic devices designed to amplify sound for individuals with hearing loss. With different types of hearing aids, you have the choice to choose which one suits your loved ones, or even you!
Reimagining The Sounds Of Life
We are launching a series of hearing aids that are designed to amplify sound for individuals with hearing loss – we reconnect you with the sound of your loved ones, nature, and the people around you. Experience life to the fullest with the power of hearing.
Our Special Features & Advanced Technology
Choose what you want to hear. Our hearing aid has a unique feature where you can select which area you wish to listen – Front, back, or rear area, We give you the power to control your hearing without any interruption.
Patented Bone Conduction Technology
Worry no more about further damaging your hearing. Our patented bone conduction technology, this technology works differently from any other hearing aids. You'll receive sounds from your cheekbone without affecting the ear and reduce the chance of further damage.
Adjust your hearing experience & turn on the noise cancellation effect to focus on the source of your hearing. With one click, turn into focus mode and eliminate any external noise. Whether you're outdoors, indoors, or at home, we have these different settings as your listening option.
Long Lasting Battery Life
Listen all day. Our hearing aids are made of long-lasting batteries that can last up to 72 hours. Fully charged in about 20 minutes, and you can recharge your earbuds anytime using the portable & fast-charging case.
Personalized hearing aids casing that fits perfectly in your pocket. We made it convenient for you to bring your hearing aid anywhere for any type of occasion. Simply carry it with you without any hassle.
How do hearing aids work?
Hearing aids consist of several components, including a microphone, amplifier, speaker, and battery. The microphone picks up sound from the environment, which is then converted into electrical signals. The amplifier increases the strength of these signals, and the speaker delivers the amplified sound into the ear.
Types of hearing aids:
Behind-the-ear (BTE): These rest behind the ear and connect to a custom earpiece or earmold.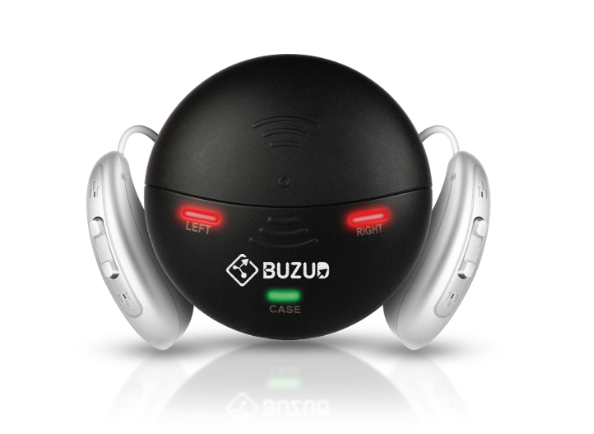 The Hearing Aids JH-D26 is a compact behind-the-ear model that is easy and simple to use. With noise cancellation and directional audio software along with a portable charging case, you can bring it everywhere with you and will never need to worry about not being able to hear others speak.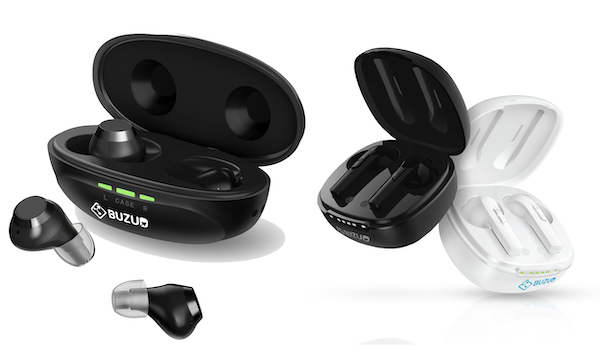 Receiver-in-ear (RIE): This type of hearing aid, also known as receiver-in-canal (RIC) or receiver-in-the-ear (RITE) hearing aids, are a type of hearing aid that combines a behind-the-ear component with a receiver placed inside the ear canal. Our JH-W3 is the perfect selection if you're looking for an RIE-type hearing aid!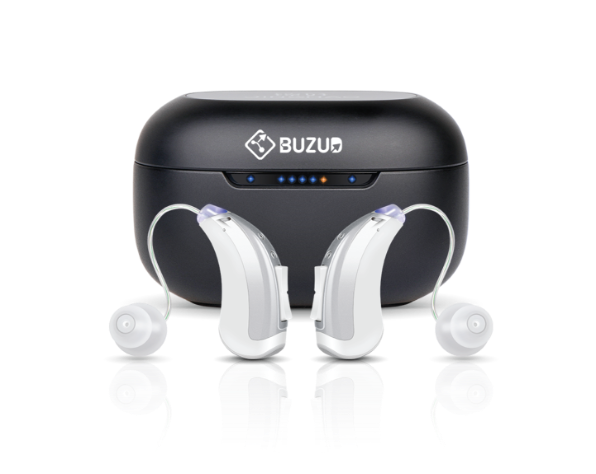 We understand that finding the right hearing aid can be challenging, and for most people, it is a big decision. If you need a hands-on try-on for any of our products, we have good news for you! Our hearing aids are all available for tryouts in our showroom. You may walk into our store, or send us a message for more information.
---
DISCLAIMER
All information presented herein serves as a general guideline, and is not intended as dispensing any medical advice(s). User(s) should consult their doctor to seek further clarification for any doubt. It is recommended to refer to this guide with sole discretion, thereby we shall not be held responsible for any part of the information as presented.
REimagined Healthcare with BUZUD Care Experience at:
585 North Bridge Road, #01-02 Raffles Hospital, Singapore 188770
Call: +65 6518 9959 or Email: customercare@BUZUD.com