50% off for our Buzud Hearing Aids series!
Our hearing aid has a wide range that suits all sorts of people from all walks of life. It is made of highly advanced technology that makes listening easier for everyone, from young people to the elderly, who needs hearing assistance.
In conjunction with our new store opening this upcoming month at Square 2, we are offering 50% off for all of our hearing aids series! Pre-order your selection of hearing aids, and self-collect during our Square 2 store's opening day on 22 June!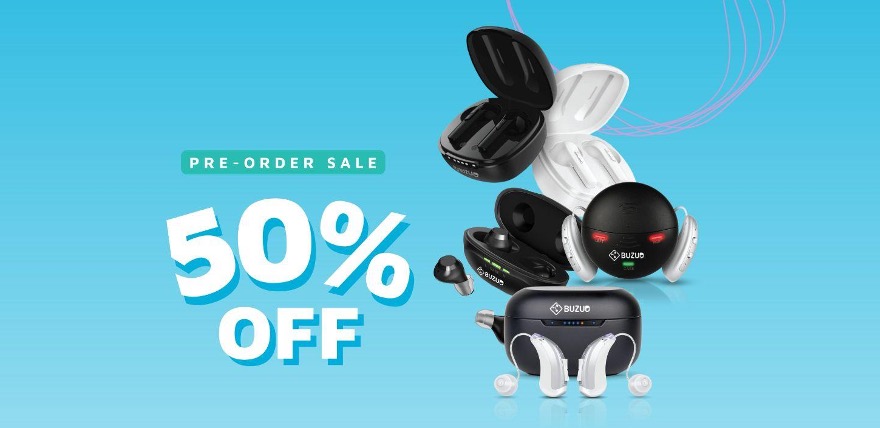 Here's a guide for you on how to place your order. Follow these 3 easy steps:
On our website, select your choice of hearing aid & add to cart
Make online payment through our website
Self-collection available in the store at Square 2 from opening day onwards
Our new store at Square 2 is located at:
10 Sinaran Dr, Square 2 #03-21, Singapore 307506
Important Notes:
50% discount is already implied for online purchase for all hearing aid products
Once order is placed, you will receive a confirmation email with your purchase receipts
On the day of collection, you will need to bring your receipt and show the proof of payment. No additional charges will be applied on the day of collection.
Whether it's for yourself, your family members, or yourself, we are excited to be part of the perfect gift! To receive further guidance on the product usage, have an offline demonstration and other enquiries regarding the sales promotion, please contact us directly via our hotline or through our Customer Service email.
We hope to see you on our new store opening this upcoming June!
---
DISCLAIMER
All information presented herein serves as a general guideline, and is not intended as dispensing any medical advice(s). User(s) should consult their doctor to seek further clarification for any doubt. It is recommended to refer to this guide with sole discretion, thereby we shall not be held responsible for any part of the information as presented.
REimagined Healthcare with BUZUD Care Experience at:
585 North Bridge Road, #01-02 Raffles Hospital, Singapore 188770
Call: +65 6518 9959 or Email: customercare@BUZUD.com