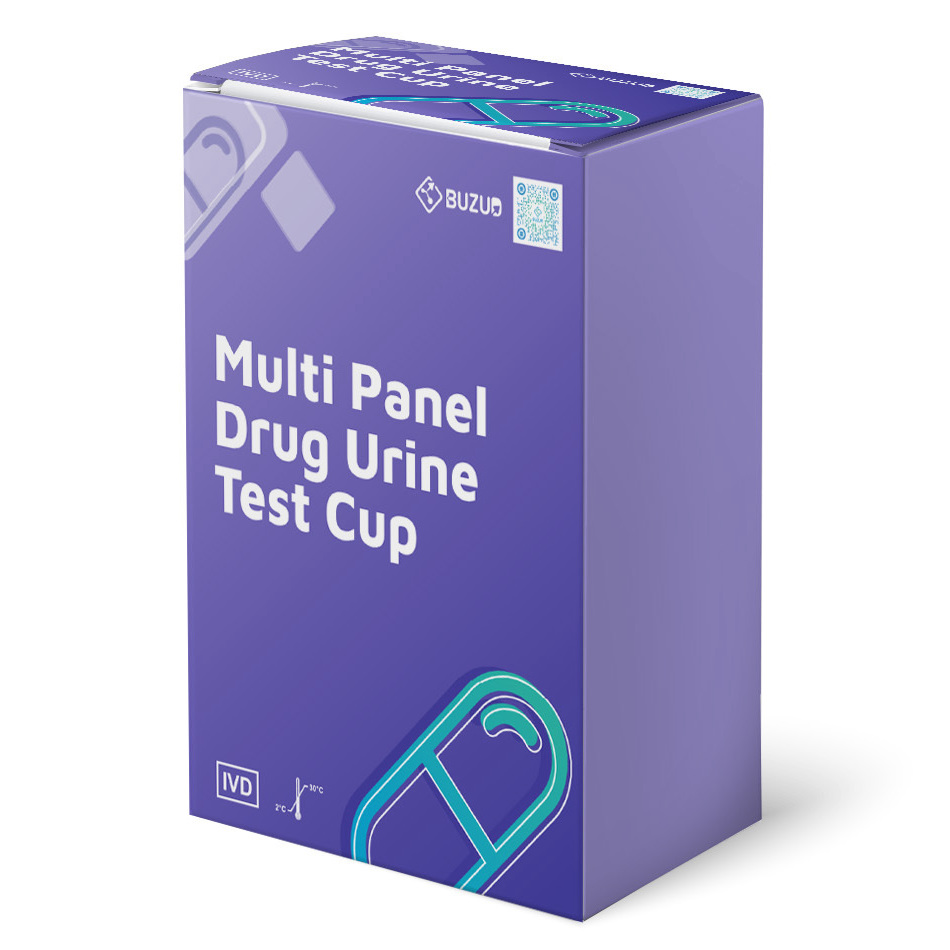 List of drugs tested in Multi Panel Drug Urine Test Cup:
AMP(1000 ng/mL)
BUP(10 ng/mL)
BAR(300 ng/mL)
BZO(300 ng/mL)
COC(300 ng/mL)
EDDP(300 ng/mL)
MET (1000 ng/mL)
MOP (300 ng/mL)
MDMA (500 ng/mL)
MTD(300 ng/mL)
OXY(100 ng/mL)
PCP (25 ng/mL)
PPX(300 ng/mL)
TCA(1000 ng/mL)
THC (50 ng/mL)
DESCRIPTION
The Multi Panel Drug Urine Test Cup is a diagnostic tool used to simultaneously screen for the presence of multiple drugs in a person's urine sample. It offers a convenient and comprehensive approach to drug testing. This test cup is designed to detect the presence of multiple drugs in a single urine sample. It typically includes panels that can screen for various common drugs of abuse, such as Amphetamines, Buprenorphine, Secobarbital, Oxazepam, Cocaine, EDDP, MET, MDMA, Morphine, Methadone, Oxycodone, Phencyclidine, Propoxyphene, Nortriptyline and Marijuana.
FEATURES
Rapid results: The Multi Panel Drug Urine Test Cup provides quick results within a short period, usually within a few minutes. This allows for immediate assessment of the presence or absence of multiple drugs in the urine.
Non-invasive testing: The Test Cup is non-invasive and requires only a urine sample. It does not involve any invasive procedures or discomfort for the individual being tested.
Easy to use: The Test Cup is designed for simplicity and convenience. It typically comes with clear instructions for collecting a urine sample and performing the test. The cup often has an integrated design with built-in panels and a test strip for easy interpretation of results.
Comprehensive drug screening: The Multi Panel Drug Urine Test Cup offers a comprehensive approach to drug screening by detecting multiple drugs simultaneously. This provides a broader understanding of an individual's drug use or potential substance abuse.
Accuracy and reliability: The Test Cup utilizes validated techniques and technologies to ensure accurate and reliable results in detecting the presence of drugs. It offers a high level of sensitivity and specificity in identifying the targeted substances.
Workplace and forensic applications: The Multi Panel Drug Urine Test Cup is commonly used in workplaces, rehabilitation centers, and forensic settings for pre-employment screenings, random drug testing, and monitoring individuals under substance abuse treatment or legal supervision.
REimagined Healthcare with
BUZUD Care Experience:
585 North Bridge Road,
#01-02 Raffles Hospital,
Singapore 188770
Call: +65 6518 9959
Email: customercare@BUZUD.com
BUZUD is a Singapore Healthcare and Aesthetics brand.
CERTIFICATION
This product supported by Fosun Information Technology, is approved by Singapore Health Sciences Authority (HSA), and is also widely approved by health authorities globally.
DISCLAIMER
Information provided herein is not intended as dispensing medical advice(s). User(s) should consult their doctor for any doubt or to seek further clarification prior to use of the said product.
User(s) is / are advised to refer to the product manual provided for more details and instructions of use. We shall not be held responsible for all informations presented herein which is merely consolidated as a product overview with descriptions in general.
All images presented herein are for illustration and visual purposes only, and may varied from the final product delivered. Actual specifications, weight, and prices of the product may deviate, and  subjected to change(s) at any time.