The BUZUD Insulin Cooler Box is a game-changing innovation that offers a sophisticated yet user-friendly solution for individuals who depend on insulin and temperature-sensitive medications. With its advanced cooling technology, portability, and thoughtful design, this cooler box revolutionizes medication management, enabling users to maintain their health and well-being with confidence and convenience. Invest in the BUZUD Insulin Cooler Box and unlock a new level of control and freedom in managing your health journey.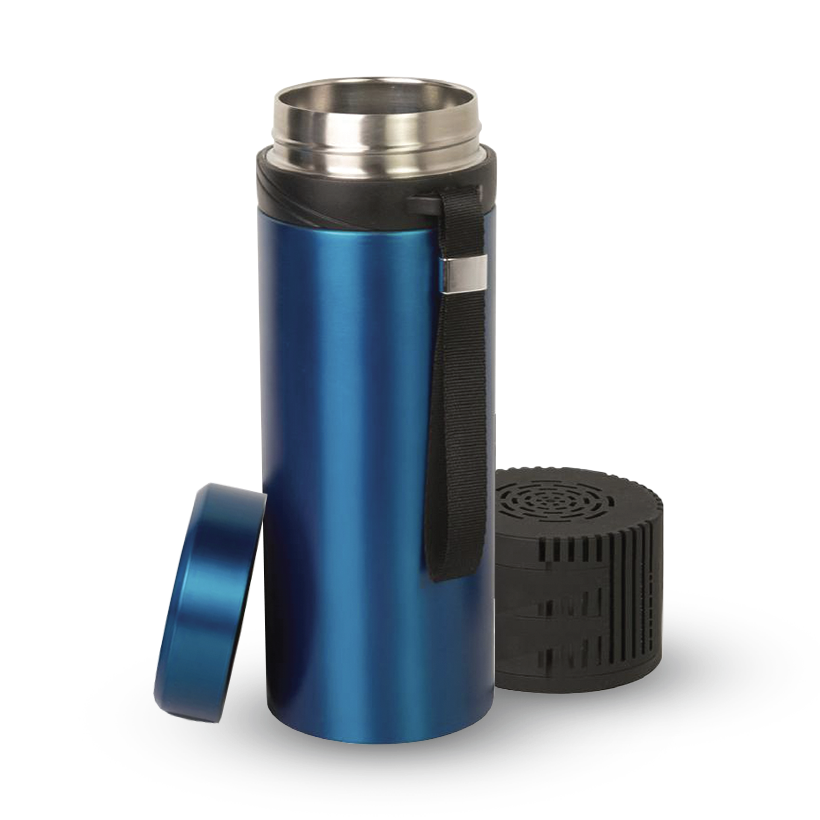 PRODUCT PARAMETERS
Size: 22.5x8cm
Cup Volume: 900ml
Internal Diameter: 62mm
Cup Material: 304 Stainless Steel vacuum cup
Input Power: 5W
Input Voltage: DC 5V
KEY FEATURES
Advanced Cooling Technology: The BUZUD Insulin Cooler Box is equipped with state-of-the-art cooling technology that keeps insulin and other medications at the optimal temperature range safeguarding their effectiveness.
Temperature Control: The intuitive digital temperature control panel allows users to easily set and monitor the desired temperature, ensuring precise cooling for various medication requirements.
Compact: Its compact design and lightweight construction make the cooler box highly portable, perfect for travel, work, or daily use. Slip it into a bag or backpack with ease.
Portable: The box can also be powered through a standard AC adapter or a portable charger via USB power cable.
Multiple Storage Compartments: The BUZUD cooler box features compartments for storing insulin pens, vials, syringes, and other accessories, keeping everything organized and accessible.
Safety and Security: The cooler box is designed with a sturdy, impact-resistant exterior and a secure locking mechanism, providing peace of mind during transportation and storage.
Quiet Operation: The advanced cooling system operates silently, making it suitable for use in various environments, including offices, classrooms, and public spaces.
User-friendly Interface: The LED display and easy-to-use controls make the cooler box accessible for users of all ages.
Versatile Usage: While primarily designed for insulin storage, the BUZUD cooler box can also be used to store other temperature-sensitive medications, vaccines, or even snacks and beverages.
BENEFITS
Enhanced Medication Management: The BUZUD Insulin Cooler Box empowers users to maintain a consistent and reliable regimen by ensuring the potency and effectiveness of their medications.
Freedom and Flexibility: With the ability to maintain proper storage conditions for insulin on-the-go, users gain the freedom to live an active and fulfilling life without worrying about medication stability.
Travel Companion: Whether exploring new destinations or commuting to work, the BUZUD cooler box is an essential travel companion that ensures medication efficacy during journeys.
Peace of Mind: Users can confidently manage their health conditions, knowing that their insulin and medications are stored and transported in an optimal environment.
Empowerment: The BUZUD cooler box encourages individuals to take control of their health by providing a reliable solution that fits seamlessly into their lifestyle.
REimagined Healthcare with
BUZUD Care Experience:
585 North Bridge Road,
#01-02 Raffles Hospital,
Singapore 188770
Call: +65 6518 9959
Email: customercare@BUZUD.com
BUZUD is a Singapore Healthcare and Aesthetics brand.
CERTIFICATION
This product supported by Fosun Information Technology, is approved by Singapore Health Sciences Authority (HSA), and is also widely approved by health authorities globally.
DISCLAIMER
Information provided herein is not intended as dispensing medical advice(s). User(s) should consult their doctor for any doubt or to seek further clarification prior to use of the said product.
User(s) is / are advised to refer to the product manual provided for more details and instructions of use. We shall not be held responsible for all informations presented herein which is merely consolidated as a product overview with descriptions in general.
All images presented herein are for illustration and visual purposes only, and may varied from the final product delivered. Actual specifications, weight, and prices of the product may deviate, and  subjected to change(s) at any time.