What is an Electrocardiogram?
An electrocardiogram (or an ECG) is a test that records the electrical signals passing through your heart. It's a non-invasive test to monitor your heart's health and quickly detect any problems with your heart.
To keep our hearts pumping blood smoothly, our brain sends out electrical signals to the different parts of our heart to tell it what to do. An ECG records these electrical signals, along with the heart rate, the regularity of the heart rhythm, and other data. All of this information can be used to evaluate the health of your heart and help detect if you have any heart-related conditions.

Why should you do an ECG?
An ECG is usually recommended if you exhibit symptoms of heart problems, such as:
Chest pains
Shortness of breath
Feeling faint or dizzy
Very fast pulse rate
Heart palpitations (suddenly noticeable heart beats)
Becoming very easily tired and weak
An ECG may also be suggested if you have a family history of heart disease, even if you have not shown any symptoms.
The ECG can be used to detect if you are having irregular heart rhythms (arrhythmias), coronary heart disease, cardiomyopathy (which is when the walls of your heart become thickened or enlarged), or had a history of heart attacks. It can also be used to track the progress of your medical treatment for heart disease, such as checking how well a pacemaker is working.
How is an ECG done?
Usually, an ECG is done by healthcare professionals at a clinic or hospital. There are minimal risks with doing an ECG, and no electricity is passed through your body. The doctor will attach multiple small patches containing electrodes to certain spots on the chest, arms and legs. There may be some discomfort or skin irritation if the sticky patches are taken off after being left on for too long. The electrodes are then connected to an ECG machine, which will read and record the electrical signals being detected by the electrodes into a graph or multiple graphs. The doctor can read and interpret these graphs to figure out any problems with your heart.
There is also increasing popularity in having portable ECG devices, such as in a smartwatch or a small hand-carry device, without having to apply electrode patches on your body. You can check your ECG on the go at any time without having to specially go to a hospital or clinic.
You can use our Buzud Health Monitor Checkme Lite to check your ECG anywhere!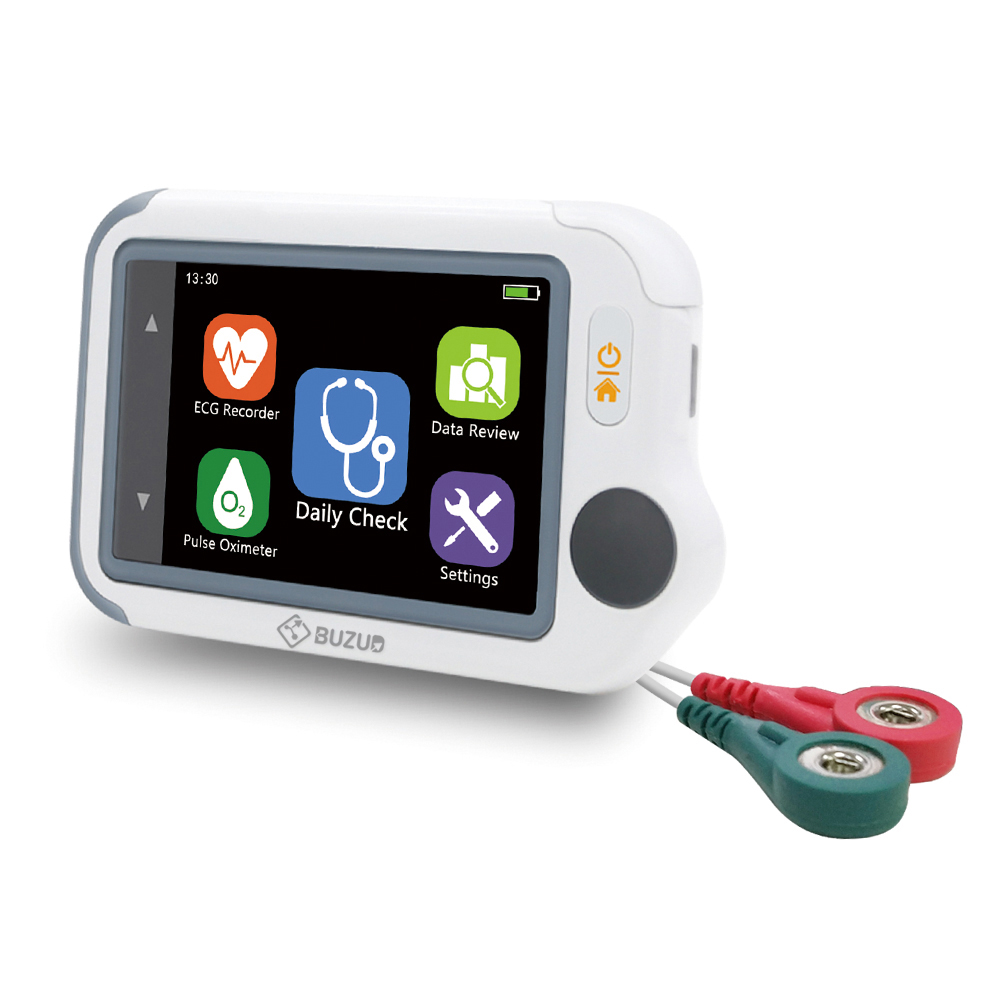 Buzud Health Monitor Checkme Lite
Includes 1 main device, 1 set of ECG cables, 1 set of disposable ECG patches, 1 temperature probe, 1 SpO2 sensor, 1 charging cable, 1 neck strap
Price: S$1,378.16 (incl. GST)
It's highly accurate and easy to use, and can also test your blood oxygen levels and your temperature. Having an all-in-one health monitoring device will make you feel much more at ease while travelling.
Knowing your heart health can be vital to managing your lifestyle and to help with early detection and treatment of any problems with your heart.
A free trial of the above device is available at the Buzud showroom. You are welcome to visit and check your ECG, as well as take a look at our other products!
Reserve by phone call / WhatsApp : +65 65189959
Store Address: 585 North Bridge Road, #01-02 Raffles Hospital, S188770
Facebook/IG: @buzud.roffe
Official website: buzud.com
---
DISCLAIMER
All information presented herein serves as a general guideline, and is not intended as dispensing any medical advice(s). User(s) should consult their doctor to seek further clarification for any doubt. It is recommended to refer to this guide with sole discretion, thereby we shall not be held responsible for any part of the information as presented.
REimagined Healthcare with BUZUD Care Experience at:
585 North Bridge Road, #01-02 Raffles Hospital, Singapore 188770
Call: +65 6518 9959 or Email: customercare@BUZUD.com