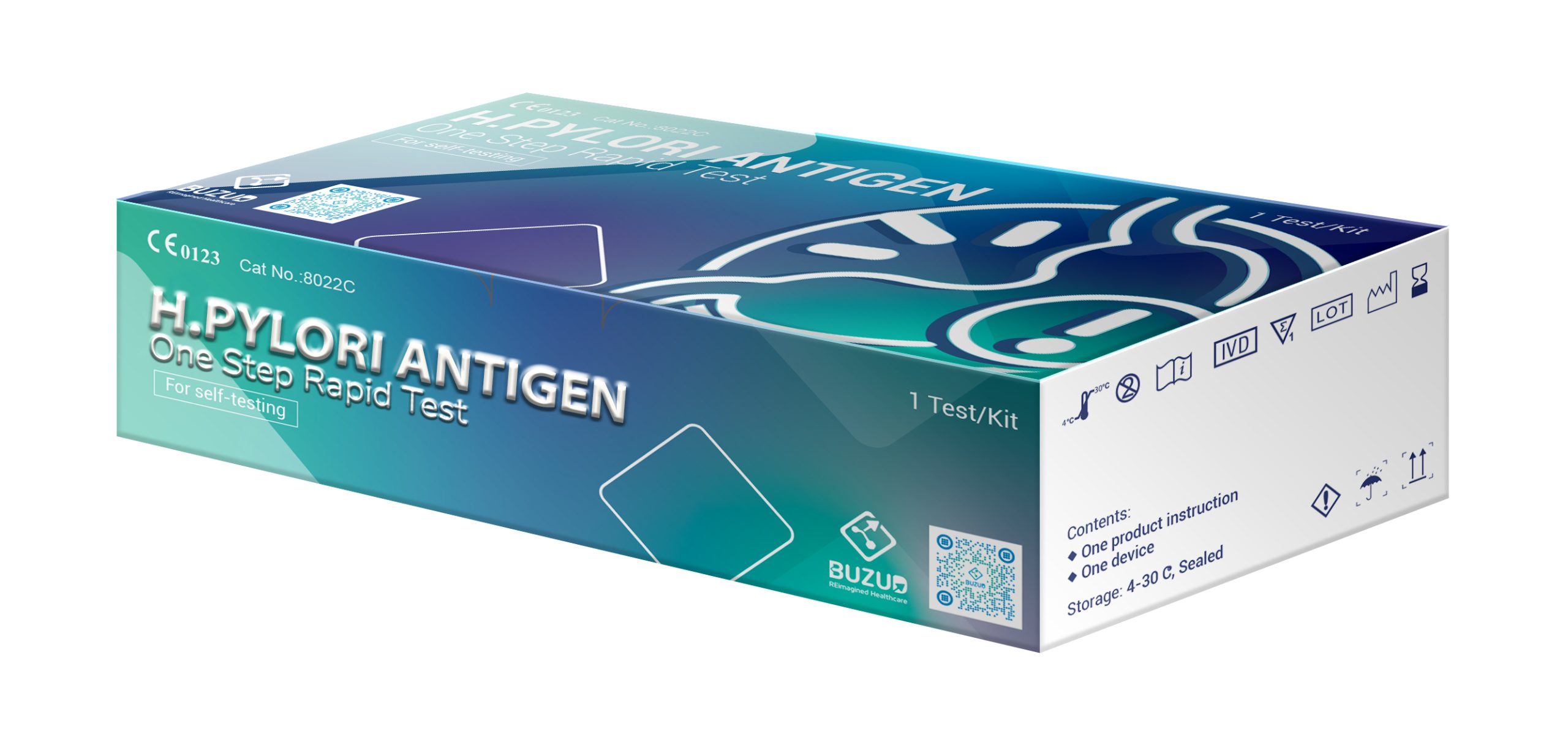 DESCRIPTION
Helicobacter pylori is a corkscrew-shaped, gram-negative rod that lives in the mucous layer of the stomach. H. pylori infection is now accepted as the most common cause of gastritis, and is etiologically involved in gastric ulcer, duodenal ulcer, gastric adenocarcinoma and primary gastric B-cell lymphoma. This organism is very common, and has infected at least half of the world population. Long-term infection leads to the weakening of the stomach lining and making it more susceptible to sores and ulcers, eventually leading to other gastric problems.
FEATURES
Detection of H. pylori antigens: The test is designed to identify specific antigens produced by H. pylori in a person's stool samples. This allows for the detection of an active H. pylori infection.
Rapid results: The H. pylori antigen rapid test provides quick results within a short period, typically within a few minutes. This enables prompt identification of an H. pylori infection.
Non-invasive testing: The test is non-invasive, as it only requires a stool sample. It does not involve any invasive procedures or discomfort for the individual being tested.
Easy to use: The H. pylori antigen rapid test is designed for simplicity and convenience. It comes with clear instructions for sample collection and result interpretation, making it user-friendly.
High accuracy: The test utilizes validated techniques and technologies to ensure reliable and accurate results in detecting H. pylori antigens. It offers a high level of sensitivity and specificity in identifying active infections.
Early detection and treatment: The H. pylori antigen rapid test allows for early detection of H. pylori infection, enabling timely treatment and management. Early intervention can help prevent complications and improve patient outcomes.
Monitoring treatment effectiveness: The test can also be used to monitor the effectiveness of H. pylori eradication treatment. By retesting after treatment, a person or healthcare providers can assess whether the infection has been successfully eliminated.
REimagined Healthcare with
BUZUD Care Experience:
585 North Bridge Road,
#01-02 Raffles Hospital,
Singapore 188770
Call: +65 6518 9959
Email: customercare@BUZUD.com
BUZUD is a Singapore Healthcare and Aesthetics brand.
CERTIFICATION
This product supported by Fosun Information Technology, is approved by Singapore Health Sciences Authority (HSA), and is also widely approved by health authorities globally.
DISCLAIMER
Information provided herein is not intended as dispensing medical advice(s). User(s) should consult their doctor for any doubt or to seek further clarification prior to use of the said product.
User(s) is / are advised to refer to the product manual provided for more details and instructions of use. We shall not be held responsible for all informations presented herein which is merely consolidated as a product overview with descriptions in general.
All images presented herein are for illustration and visual purposes only, and may varied from the final product delivered. Actual specifications, weight, and prices of the product may deviate, and  subjected to change(s) at any time.