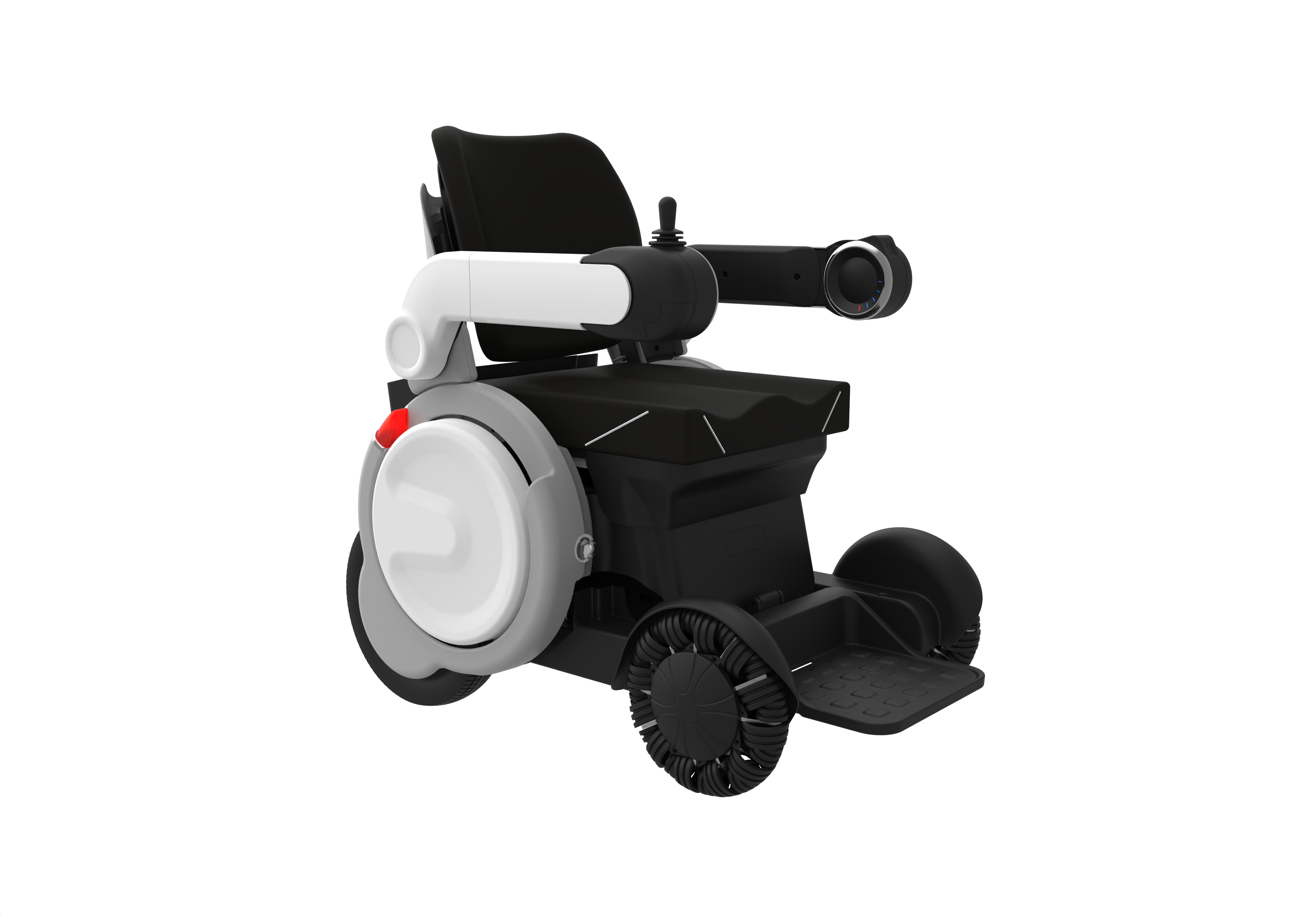 OPERATING ENVIRONMENT
Operating temperature: -20ºC ~ 45ºC
Atmospheric pressure: 860hPa ~ 1060hPa
Relative humidity: ≤80%
Inner power voltage: DC24V ~ 29.4V
ELECTRICAL & BATTERY PARAMETERS
Motor rated voltage: 24V
Motor rated power: 450W*2
Battery type: Lithium battery
Shell material: Anodised aluminum alloy
Battery rated voltage: DC24V
Battery rated capacity: 70Ah
Battery number: 1PC
Charging method and time: Straight charging 7h
FEATURES
Voice prompts
Seat adjustable, up and down, front and rear
AWD system
Built-in lithium battery, with self-monitoring power function
Optional manual or power control
PARAMETERS
Length: 975±10mm
Width: 630±10mm
Height: 1080±10mm
Seat width: 400±10mm
Seat depth: 450±10mm
Seat to ground clearance: 505~685mm
Armrest height: 185±10mm
Backrest height: 300~500mm
Seat lifting distance: 0~180mm
Seat translation distance: 0~120mm
Maximum speed: ≤7km/h
Flat road braking: ≤3.5m
Maximum safe slope braking: ≤6m (8º)
Slope performance: 15º
Static stability: 15º
Dynamic stability: 10º
Maximum height of over-obstacle: 80mm
Maximum width of crossing ditch: 150mm
Climbing performance: 8º
Minimum spinning radius: 770mm
Overal weight: 119±1kg
Estimate loading limit: 120kg
Theoretical mileage: 36km
Power consumption: ≤6.0kWh/100km (of 15%)
Gear number: 5 gears
Drive mode: 4WD
Braking system: ESP auto control system
Shock absorber: Hydraulic spring shock absorber
REimagined Healthcare with
BUZUD Care Experience:
585 North Bridge Road,
#01-02 Raffles Hospital,
Singapore 188770
Call: +65 6518 9959
Email: customercare@BUZUD.com
BUZUD is a Singapore Healthcare and Aesthetics brand.
CERTIFICATION
This product supported by Fosun Information Technology, is approved by Singapore Health Sciences Authority (HSA), and is also widely approved by health authorities globally.
DISCLAIMER
Information provided herein is not intended as dispensing medical advice(s). User(s) should consult their doctor for any doubt or to seek further clarification prior to use of the said product.
User(s) is / are advised to refer to the product manual provided for more details and instructions of use. We shall not be held responsible for all information presented herein which is merely consolidated as a product overview with descriptions in general.
All images presented herein are for illustration and visual purposes only and may vary from the final product delivered. Actual specifications, weight, and prices of the product may deviate, and are subjected to change(s) at any time.