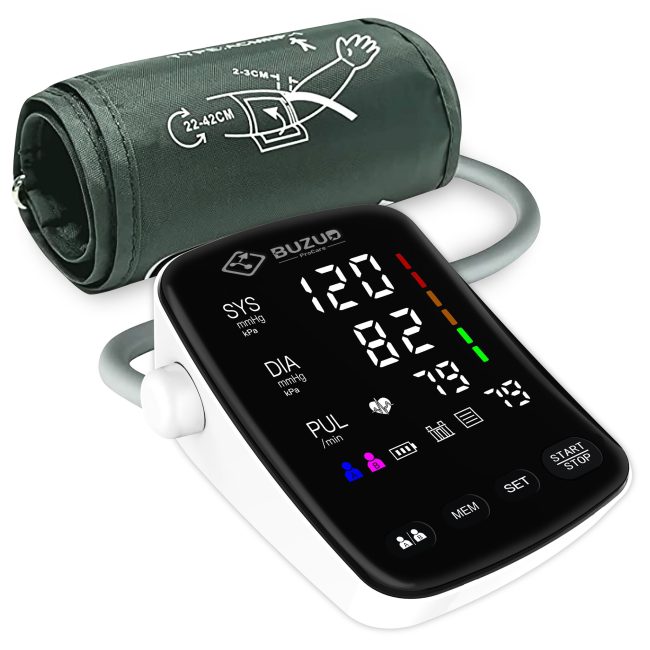 SPECIFICATIONS
Display: LED digital display
Measuring principle: Oscillometric method
Measuring localisation: Upper arm
Measurement range: Pressure: 0~299mmHg;
Pulse: 40~199 pulses/min
Accuracy: Pressure: ±3mmHg;
Pulse: ±5% of reading
LED indication:
Pressure: 3 digits display of mmHg;
Pulse: 3 digits display;
Symbol: Memory/ Heartbeat/ Low battery
Memory function: 2 x 199 sets memory of measurement values
Power source: 4 pcs AAA alkaline battery/ Type-C 5V
Automatic power off: In 3 minutes
Main unit weight: Approx. 260g (batteries not included)
Main unit size: 138 x 100 x 62mm
Main unit lifetime: 10,000 times under normal use
Battery life: Could be used for 300 times for normal condition
Accessories: Cuff, instruction manual
FEATURES
Accurate and reliable: The Upper Arm Blood Pressure Monitor U82RH is designed to provide accurate and reliable readings of blood pressure. This can help individuals to monitor their blood pressure levels effectively and make informed decisions about their health.
Easy to use: The device is easy to use, with a simple and intuitive interface. This can be particularly helpful for individuals who may have difficulty using more complex medical devices.
Large display: The device has a large display, which can make it easier for individuals with visual impairments to read their blood pressure readings.
Memory function: The device has a memory function that allows individuals to track their blood pressure readings over time. This can be useful for identifying trends and patterns, which can help individuals to better manage their blood pressure.
Adjustable cuff: The device comes with an adjustable cuff that can fit a wide range of arm sizes. This can make it easier for individuals to get an accurate reading of their blood pressure.
Irregular heartbeat detector: The device has an irregular heartbeat detector, which can alert individuals to potential issues with their heart health.
Multiple user profiles: The device can store multiple user profiles, which can be useful for households with more than one individual who needs to monitor their blood pressure.
Portable: The device is compact and portable, making it easy to take with you wherever you go. This can be particularly useful for individuals who need to monitor their blood pressure while on the go or who travel frequently.
Affordable: The Upper Arm Blood Pressure Monitor U82RH is an affordable option for individuals who need to monitor their blood pressure regularly. This can make it easier for individuals to manage their healthcare costs without compromising on the quality of care they receive.

Operating environment
Temperature: 5 ~ 40°C
Humidity: 15 ~ 93% RH
Air pressure: 86kPa~106kPa
Storage environment
Air pressure: 86kPa~106kPa;
Temperature: 20 ~ 55°C;
Humidity: 10 ~ 93% RH; Avoid crash, sun burn or rain during transportation
Expected service life: 5 years
Software version: UA 1.0
REimagined Healthcare with
BUZUD Care Experience:
585 North Bridge Road,
#01-02 Raffles Hospital,
Singapore 188770
Call: +65 6518 9959
Email: customercare@BUZUD.com
BUZUD is a Singapore Healthcare and Aesthetics brand.
CERTIFICATION
This product supported by Fosun Information Technology, is approved by Singapore Health Sciences Authority (HSA), and is also widely approved by health authorities globally.
DISCLAIMER
Information provided herein is not intended as dispensing medical advice(s). User(s) should consult their doctor for any doubt or to seek further clarification prior to use of the said product.
User(s) is / are advised to refer to the product manual provided for more details and instructions of use. We shall not be held responsible for all informations presented herein which is merely consolidated as a product overview with descriptions in general.
All images presented herein are for illustration and visual purposes only, and may varied from the final product delivered. Actual specifications, weight, and prices of the product may deviate, and subjected to change(s) at any time.