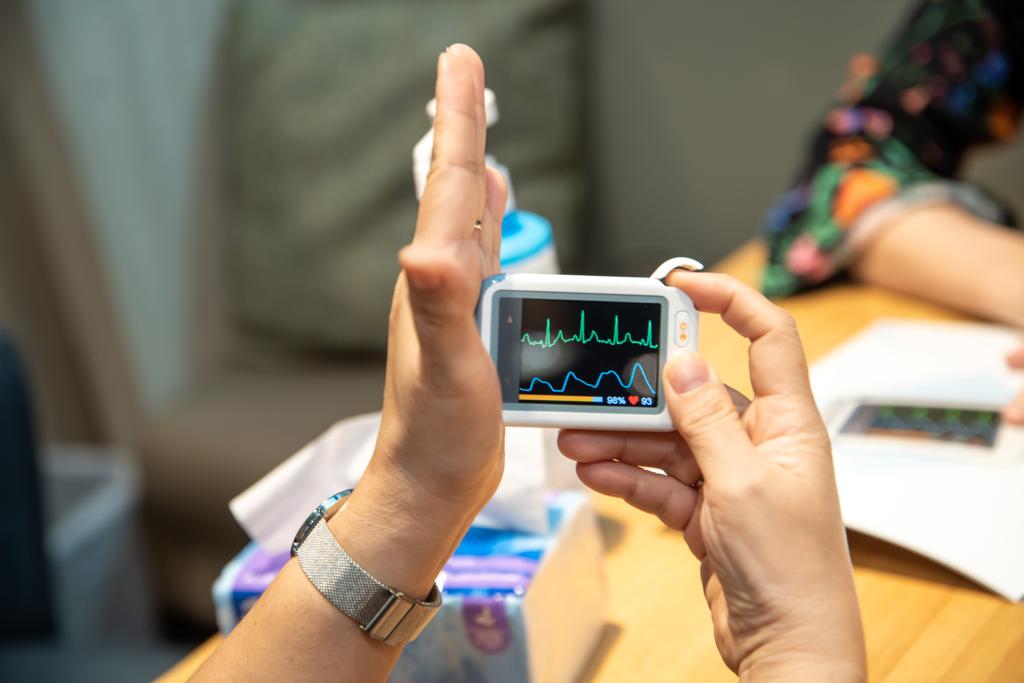 Monitoring Where the Action is – Buzud Health Monitor
Singapore, 1st May 2023
This high-tech device could save your life 
The medical literature tells us that the most effective ways to reduce the risk of heart disease, cancer, stroke, diabetes, Alzheimer's, and many more problems are through healthy diet and exercise. Our bodies have evolved to move, yet we now use the energy in oil instead of muscles to do our work.
David Suzuki
At first glance, you'll appreciate the bright images on the screen. When you hold it, you can marvel at the range of information it provides – vital information for those seeking to keep fit or become fit and for those for whom it is imperative to keep a virtual eye on the effects of everyday lids on your body. Now there is an easy-to-use device that provides a smooth interface to access information about you. Of course, there's a downloadable app to delve into the Health Monitor's remarkable array of features designed to be accessed by YOU.
Like these:
Daily check – provides a quick readout of pulse oxygen (SpO2), simultaneous pulse, and systolic blood pressure

Pulse oxygen – the amount of oxygen in the red blood cells. One value of this measurement is to help determine whether supplemental oxygen is required either short- or long-term.

Data Review – tracks results from the daily check and lists them in chronological order. This is especially relevant when looking at any changes over time that might signal the user to pay more attention to particular anomalies.
ECG Recorder – electrical signals emitted by the heart are tracked. Doing so may help diagnose abnormal rhythms and/or heart disease (heart attack propensity and angina).
Simply and easily, the Buzud Heart Monitor has given a comprehensive view of your heart's condition and overall health while looking closely at any trends that may identify small problems early on before they become bigger issues. This is the essential value of the Heart Monitor – to provide regular observation of the heart's activity with a view to determining its bearing on your overall health.
Providing three-in-one (ECG, temperature, Sp02) results in an instant the little palm-sized unit is a natural for traveling or just for being out on the town. With heart monitoring in one press, "Instant Check" – 20 seconds, and a Smart Touch Screen with audio prompts, this powerful little device is ready to accompany the health-conscious, modern user as a reliable companion. Once retrieved these stats can be loaded into a smartphone or computer for over-time tracking of one's vital readings.
To aid in professional reporting and data management, the Buzud Health Monitor is packaged with a USB charger (most charges are good for +-20 hours of continuous use), non-complex and easy-to-understand and use software and app, a cable and sensors for ECG taking ECG readings, an SPO2 sensor for adults (note: one is available optionally for children), and, a nice touch, an extension cord.
You may ask, "Do I need another device in my life?" Yes – For those over 60 or with special cardio-vascular issues. Yes – for those who want to keep close track of their body's well-being either as part of a regular exercise routine or as part of training or competitive events. You'll soon find that close monitoring promotes an awareness of the challenges and changes in overall health and fitness.
Combined with a lifestyle of healthy eating and exercise, the Buzud Health Monitor is where technology, fitness, and overall good health converge – right there in your pocket, purse, or carry-on.
For more information, you can visit buzud.com
Written by Janice (Original article from Janiqueel.com)
---
DISCLAIMER
All information presented herein serves as a general guideline, and is not intended as dispensing any medical advice(s). User(s) should consult their doctor to seek further clarification for any doubt. It is recommended to refer to this guide with sole discretion, thereby we shall not be held responsible for any part of the information as presented.
REimagined Healthcare with BUZUD Care Experience at:
585 North Bridge Road, #01-02 Raffles Hospital, Singapore 188770
Call: +65 6518 9959 or Email: customercare@BUZUD.com