The FSH Urine Test is finally here and available for purchase!
[Singapore, 27 December, 2022] – Designed and produced by BUZUD, Singapore's very own manufacturer of medical devices and appliances, the Follicle Stimulating Hormone FSH Urine Test for Self-Testing is finally here and available for purchase. The test is offered for consumers in 3 options: midstream type, cassette type and strip type. FSH Urine Test for Self-Testing is a rapid, one step visual test for the qualitative detection of follicle stimulating hormone (FSH) in human urine. It is meant to be used as a confirmation of body hormone changes related to the symptoms associated with the changes of menopause and as an adjunctive screen of fertility for home use by women who are attempting to conceive but have not been successful. It is a handy tool, that women may find highly helpful in determining the possibility of early menopause, or the possibility of a chance for a successful conception attempt. It is often used together with the LH Ovulation Rapid Test to help with figuring out the cause of infertility or to confirm the start of menopause.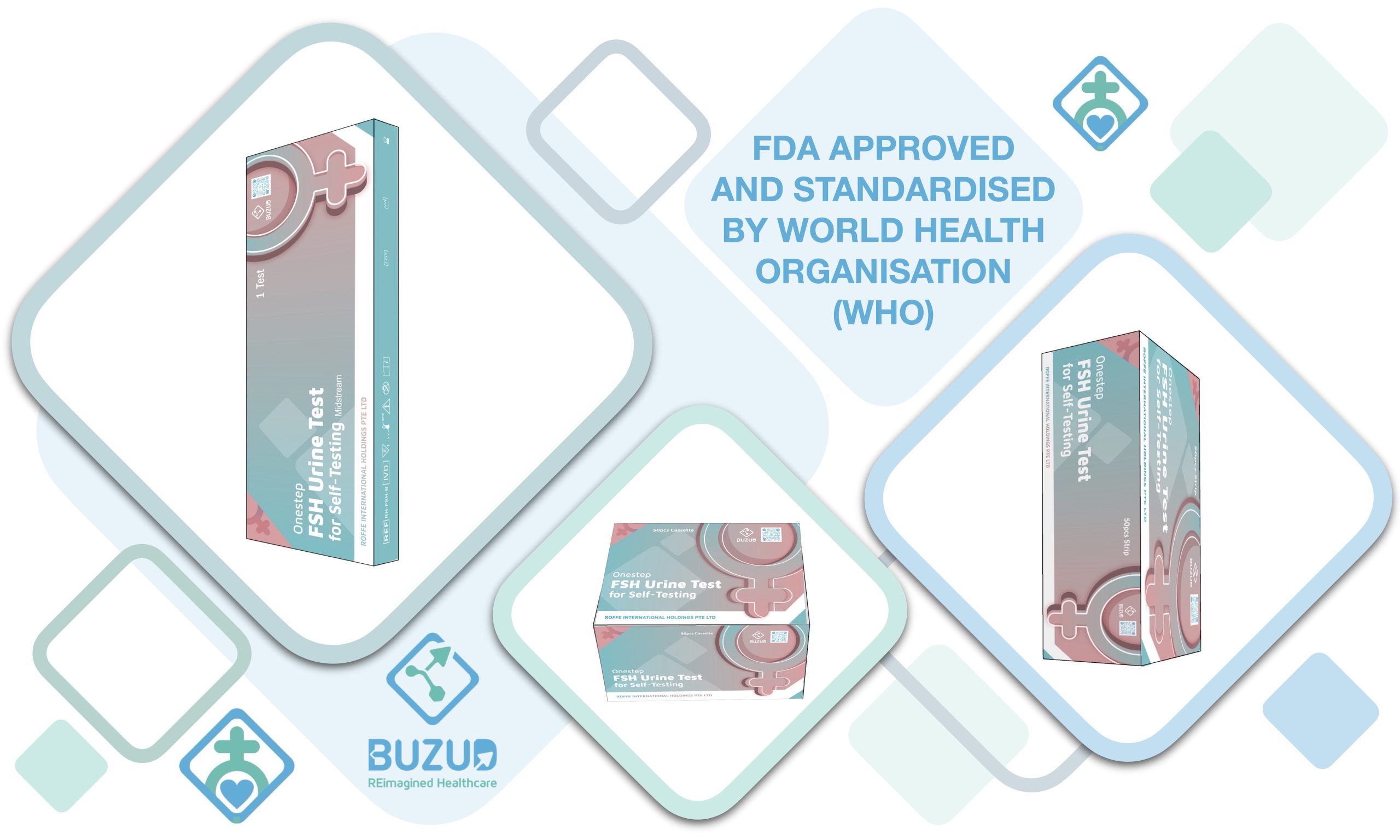 FSH Urine Test for Self-Testing allows you to save your time and perform the test rapidly in the comfort of your home or in your convenience. It is FDA approved and is more than 99.99% accurate. The sensitivity of the test is 25 mlU/ml, which has been confirmed with FSH standards in urine. The test has been standardised to the World Health Organisation (WHO) Second International Reference Preparation (IRP 78/549). 
Follicle stimulating hormone (FSH) is a hormone produced by the pituitary gland. FSH levels increase temporarily each month to stimulate your ovaries into producing eggs. When you enter menopause and your ovaries stop working, your FSH levels will also increase significantly. You should use this test if you want to know if your symptoms, such as irregular periods, hot flashes, vaginal dryness, or sleep problems are part of menopause. While many women may have little or no trouble when going though the stages of menopause, others may have moderate to severe discomfort and may want treatment to alleviate their symptoms. This test may help you be better informed about your current condition when you see your doctor. 
Tests such as BUZUD FSH Urine Test for Self-Testing are recommended to conduct for women 30-35 years old, who haven't had any children before. It is also recommended for women who had children before and are having trouble to conceive again, especially if they are aged 35 years old and above.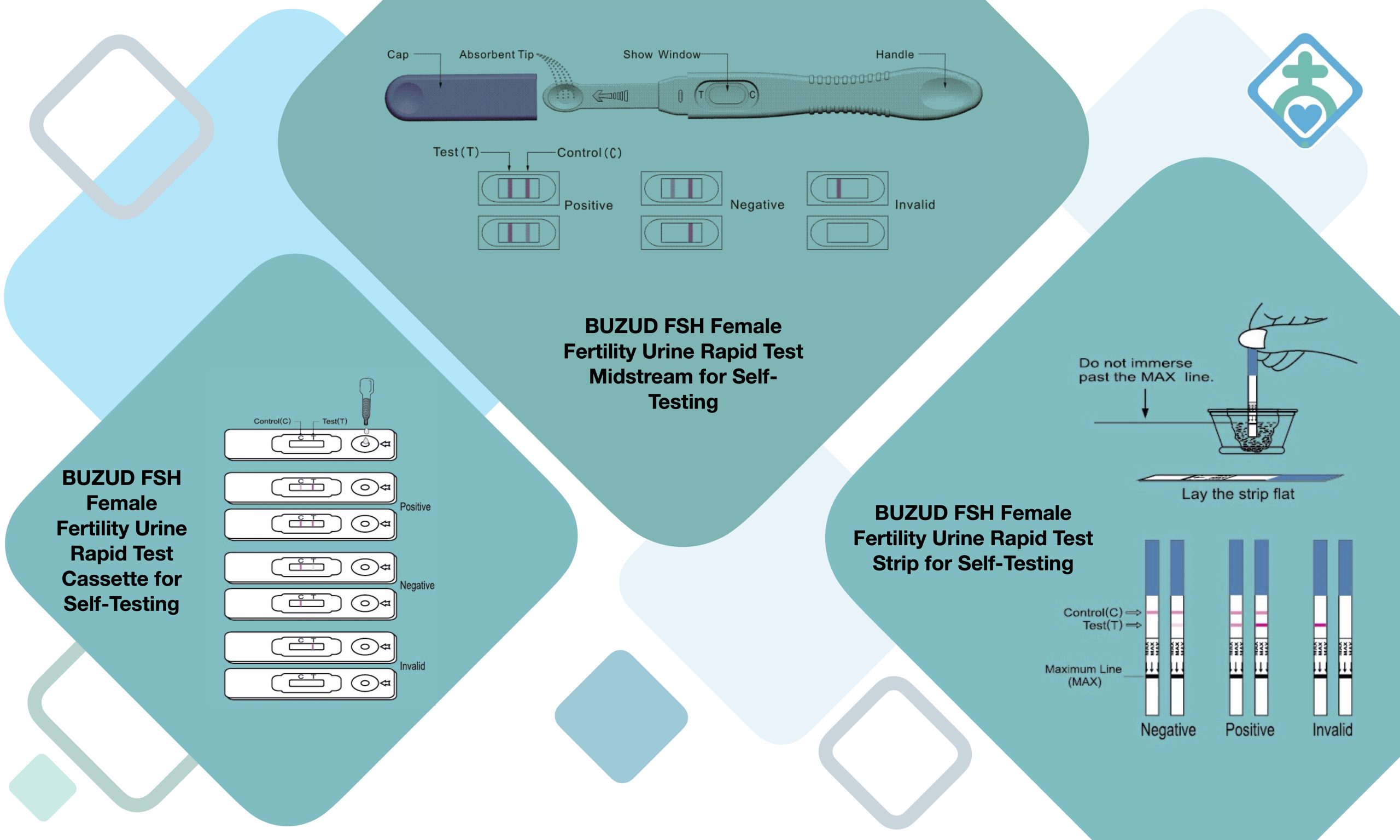 To conduct the FSH Urine Test for Self-Testing you should carefully follow the steps described in the instruction pamphlet that comes with the kit. For this particular test you may use urine collected in any time of the day, but the morning urine is the most recommended, as it has the highest concentration of FSH. You should not drink water within 2 hours before collecting the urine specimen to avoid diluting the specimen. It is best to use fresh urine specimen for the test, no special pre-treatment necessary. It is recommended that best results might be attained by conducing this test between the 3rd to 7th day of your menstrual period. 
To interpret the test results, you should read the results between 10 to 20 minutes after adding the specimen. Do not read the results after 30 minutes. 
The BUZUD FSH Urine Test for Self-Testing kits should not be used after the expiration date, and the testing kit should be kept only in its factory sealed foil pouch and stored in room temperatures from 2°C to 35°C before being used. 
All 3 presented by BUZUD FSH Urine Test for Self-Testing kits are now available for sale, both online and in-store. For online purchase please refer to the following links on the BUZUD web-site and online shop: 
FSH Urine Test for Self-Testing
Written by Liubov Kyrychenko, edited by Goh Jing Yuan
---
About Buzud (pronounced ['bʌzud])
Established in 2006, BUZUD Singapore provides medical and healthcare services by developing and manufacturing HSA-approved medical equipment to ensure that every healthcare need is met. BUZUD is committed to raising awareness of the importance of personal health management in order to mitigate health risks that can affect quality of life. Our aftercare service offers replacements within 24 hours as part of our service excellence.
Buzud retail is located at 585 North Bridge Road, #01-02, Raffles Hospital.
Opening hours: Monday to Friday 9am to 6pm, Saturday 9am to 5pm. Closed on Sunday.
Tel: 65189959  Email: customercare@buzud.com  Website: www.Buzud.com