Singapore Homegrown Brand BUZUD Launches Sale of hCG Pregnancy Rapid Test
[Singapore, 8 December, 2022] – Singapore homegrown brand BUZUD, Fosun Trade Medical Devices, a leading manufacturer of medical devices and appliances, is excited to announce the launch of its newest appliance the HCG Pregnancy Rapid Test, that is now available for customers in three options: the HCG Pregnancy Rapid Test Midstream Self Testing, the HCG Pregnancy Rapid Test Cassette Self-Testing, and the HCG Pregnancy Rapid Test Strip Self-Testing. The HCG Pregnancy Rapid Test is simple and easy to use, and provides test results within only 5 minutes. Appliance is FDA approved and more than 99% accurate.
The HCG Pregnancy Rapid Test is designed for the rapid determination of HCG (human chorionic gonadotropin) in urine, which is the hormone produced by the developing placenta shortly after conception and secreted into the urine. Hence the HCG Pregnancy Rapid Test allows the user to obtain a visual qualitative result, and develop preliminary early awareness of a possible pregnancy.

MORE THAN 99% ACCURATE
Although, as it is with any other diagnostic procedure, a confirmed pregnancy diagnosis should only be made by a physician. However, the clinical evaluation of HCG Pregnancy Rapid Test, in comparison to another commercially available urine membrane HCG test, demonstrated its more than 99% overall accuracy, based on 216 urine specimens included in the trial. Furthermore, during the test of its performance characteristics, 60 specimens showed a 100% accurate results, where 30 specimens were pregnant and 30 weren't. Among the users that conducted analysis of these 60 test results were professional and non-professional users, where both determined identical results, which confirms its effectiveness and user friendly design.
Detects the pregnancy at its earliest stages and allows for pre-natal care to start as soon as possible. Designed to increase chances for a healthy pregnancy and improve the baby's well-being.
The HCG Pregnancy Rapid Test sensitivity is 25 mIU/mL and greater, which allows it to determine your possible pregnancy more accurately than by using many other Pregnancy Rapid Tests available in the market. It is recommended to use the HCG Pregnancy Rapid Test as soon as the very first late day of the  woman menstrual period. It is appropriate to use any urine for the urine specimen for testing, however the first morning urine contains the highest concentration of HCG, which is why it is highly recommended to use the first morning urine for pregnancy testing.
There are 3 different versions of the HCG Pregnancy Rapid Test. The HCG Pregnancy Rapid Test Midstream Self Testing can be used directly from the source, by pointing the Absorbent Tip downward directly into the urine stream. The HCG Pregnancy Rapid Test Cassette Self-Testing can be used by dropping 2-3 drops of the urine specimen onto the sample area of the cassette. For the HCG Pregnancy Rapid Test Strip Self Testing, the strip should be dipped into the container with the collected urine specimen for at least 10 seconds until thoroughly wet.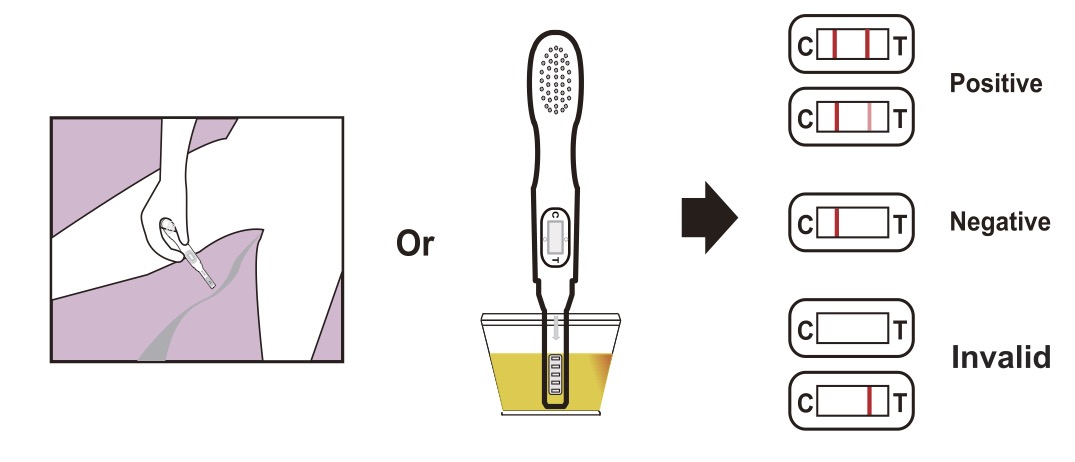 The HCG Pregnancy Rapid Test is simple to use, fast and hassle free. Its sophisticated design makes it simple and hygienic to use it anywhere, at home, at work place restrooms, at public restrooms, anywhere, anytime. The results are ready to read in 5 minutes.  
All 3 presented by BUZUD HCG Pregnancy Rapid Test kits are now available for sale, both online and in-store. For online purchase please refer to the following link on the BUZUD web-site and online shop:
Written by Liubov Kyrychenko, edited by Goh Jing Yuan
---
About Buzud (pronounced ['bʌzud])
Established in 2006, BUZUD Singapore provides medical and healthcare services by developing and manufacturing HSA-approved medical equipment to ensure that every healthcare need is met. BUZUD is committed to raising awareness of the importance of personal health management in order to mitigate health risks that can affect quality of life. Our aftercare service offers replacements within 24 hours as part of our service excellence.
Buzud retail is located at 585 North Bridge Road, #01-02, Raffles Hospital.
Opening hours: Monday to Friday 9am to 6pm, Saturday 9am to 5pm. Closed on Sunday.
Tel: 65189959  Email: customercare@buzud.com  Website: www.Buzud.com