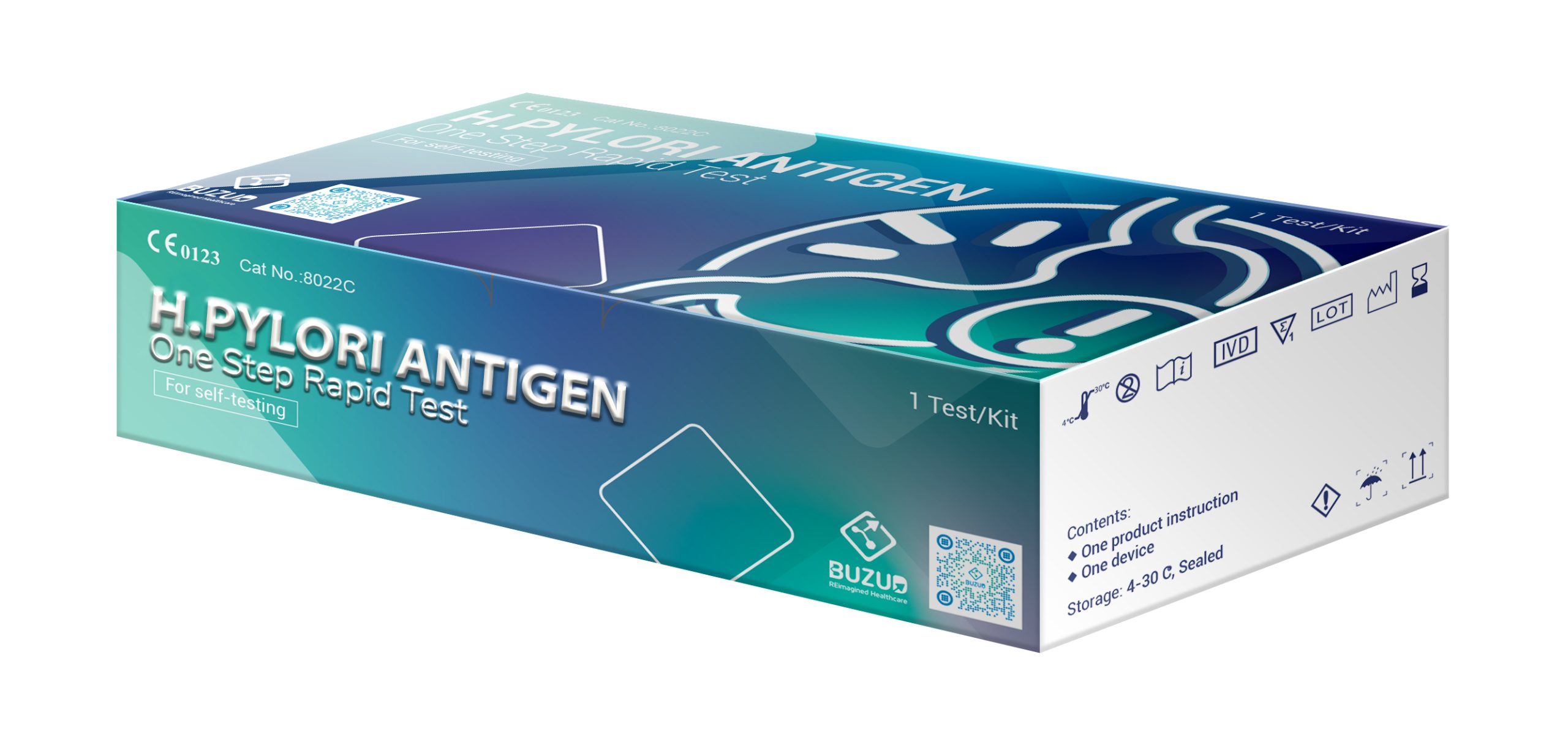 Buzud Announces Availability of New Product, the H. Pylori Antigen One Step Rapid Test
[Singapore, 26 January, 2023] – BUZUD, by Fosun Trade Medical Devices, a manufacturer of medical devices and appliances, is here to announce the availability of yet another new product, the Helicobacter Pylori Antigen Rapid Test (H.Pylori Antigen One Step Rapid Test). It is a Cassette type test, that is now available for purchase in 1 test kit per package. H.Pylori Antigen Rapid Test is a one step test that will provide you with results in just 15 minutes.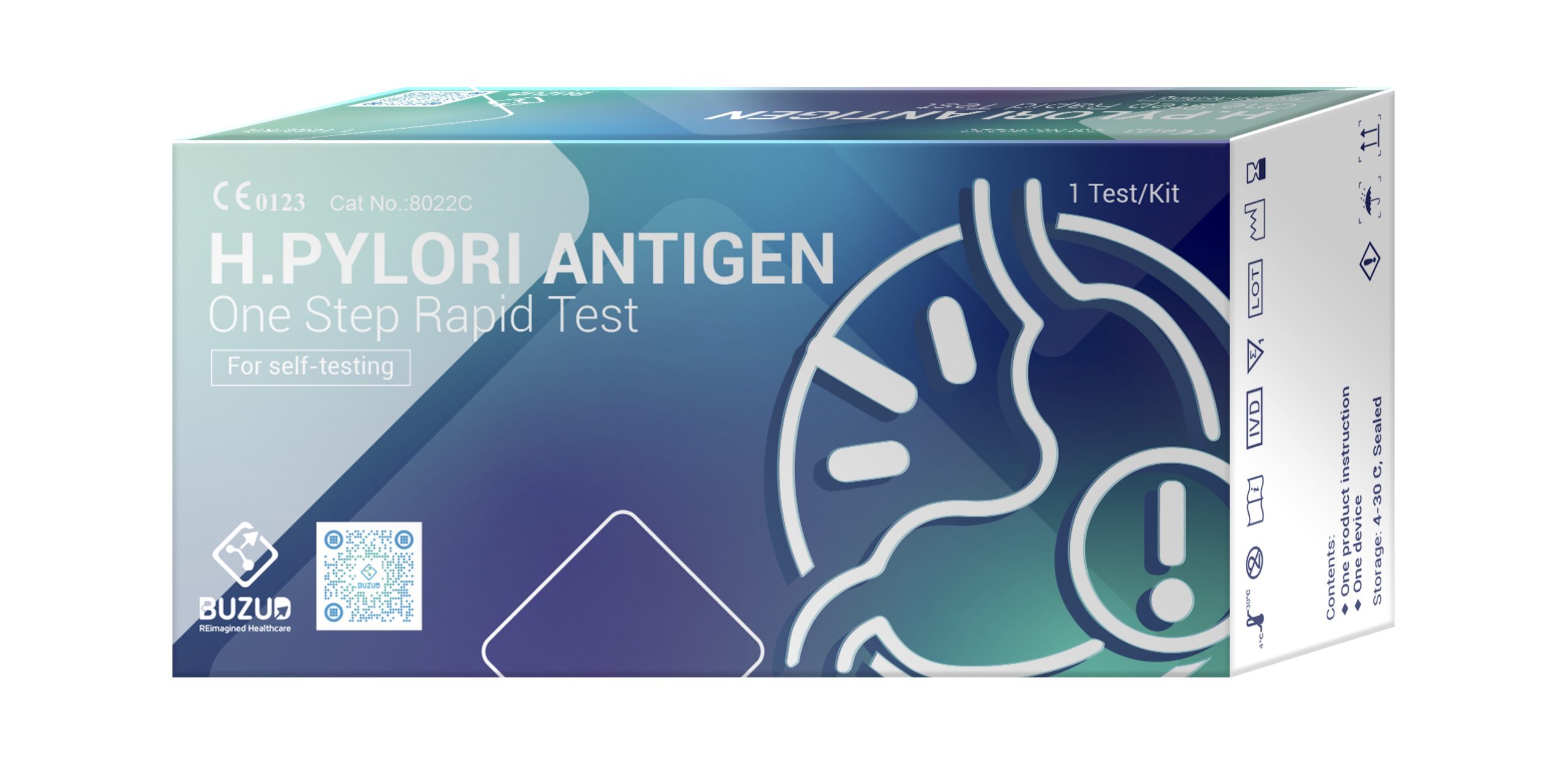 BUZUD H.Pylori Antigen test is a rapid, visual immunochromatographic test for the qualitative detection of helicobacter pylori antigen in human fecal samples, and the positive outcome of this test will suggest the presence of the h.pylori antigen in your fecal sample. The test device contains a membrane strip, pre-coated with anti-H.pylori antibody on the Test region (T) and goat anti-mouse antibody on the Control region (C). Each of the H.Pylori Antigen test kits are supplied individually sealed in foil pouches, and can be stored for the duration of its shelf-life in room temperature from 4 to 30°C, but should not be frozen in any case. 
Helicobacter Pylori antigen is one of the most important pathogenic factors of chronic gastritis, peptic ulcer and gastric cancer.
Helicobacter pylori are gram negative bacteria that infect gastric mucosa. Infection with Helicobacter pylori may lead to chronic gastritis and predispose to gastric and duodenal ulcers. Infection with H.pylori is very common and has been estimated to occur in 40-50% of the population in developed countries and 80-90% of the population in developing countries. 
The clinical evaluation of BUZUD H.Pylori Antigen Rapid Test demonstrated the relative sensitivity, relative specificity and relative accuracy of the three lots of the H.Pylori Antigen Rapid Test, all reaching 99%. Nevertheless, as with all diagnostic test, a definitive clinical diagnosis should not be based on the results of a single test, but should only be made by the physician after evaluating all clinical and laboratory evident. BUZUD H.Pylori Antigen Rapid Test is designed as an aid to detect the likelihood of the infection, and it is a tool that helps to detect a problem and aids physicians in making a diagnosis. 
The test procedure of BUZUD H.Pylori Antigen Rapid Test does not require special preparation, dietary restrictions, and is fairly similar to any other rapid diagnostic tests. The procedure of the test is described in detail in the Instructions of Use pamphlet, and please follow it carefully in order to achieve accurate results. To summarise the procedure, we can split it into these main stages: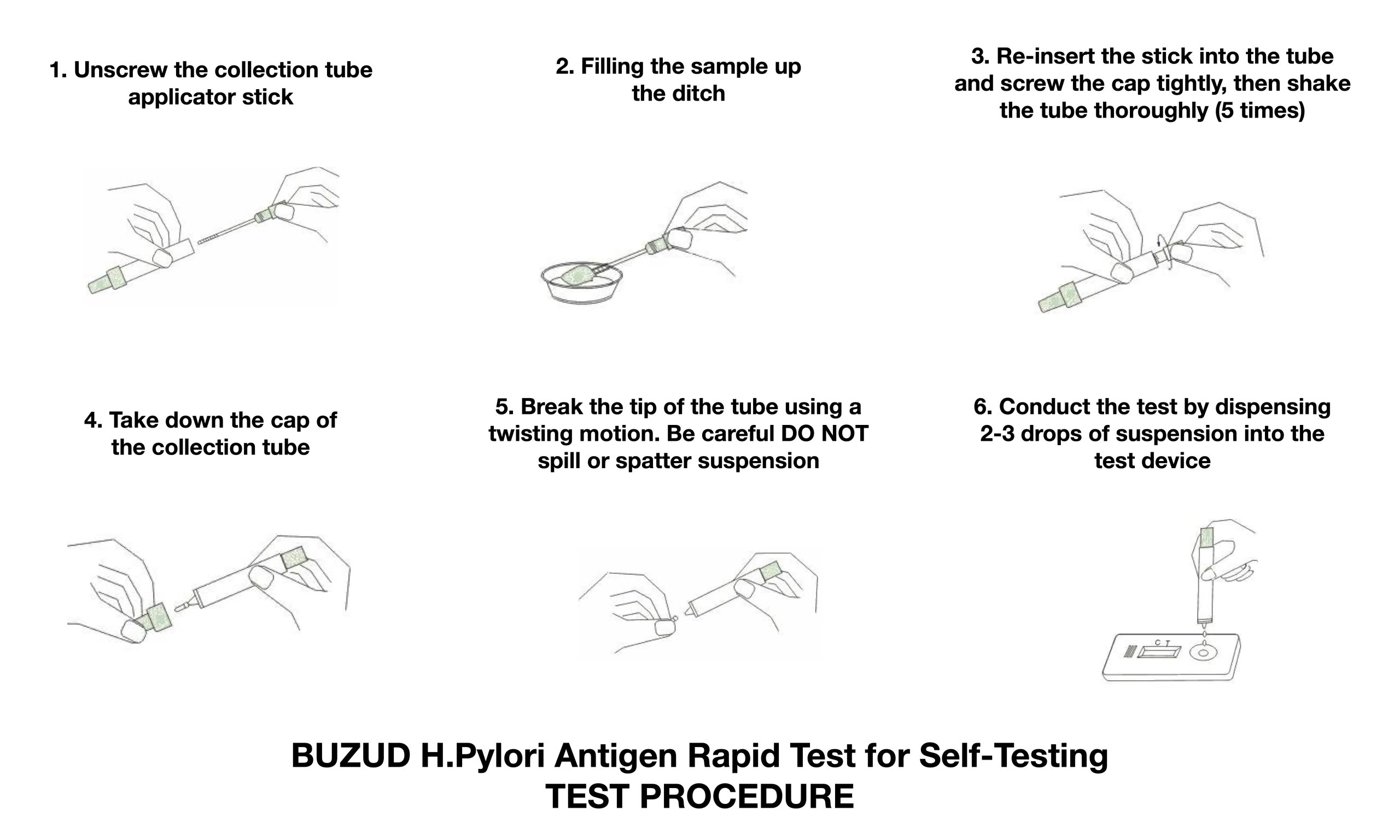 The interpretation of results of the H.Pylori Antigen Rapid Test by BUZUD, Fosun Trade Medical Devices, are as follow: if both C and T red lines appear in the viewing window, it means that the result is positive (the intensity of the test line might be less than that of control line; this still means positive result). If only the C line appears in the viewing window, but the T line is not visible, that means the result is negative. And if the result shows only the T line, that indicates that the test failed, or the test procedure was not followed properly. In such an event you should verify the test procedure and repeat the test with a new testing device. 
BUZUD H.Pylori Antigen Rapid Test for self testing supply kit includes: 1 Test Cassette (individually foil pouched), 1 Sample Collection Tube (each tube contains 2ml buffer of 0.9% NaCl with 0.05% Proclin 300) and instruction insert. The testing device is FOR IN VITRO DIAGNOSTIC USE ONLY. 
BUZUD's H.Pylori Antigen Rapid Test for Self Testing is now available for sale online and in-store. For online purchase please refer to the following links on the BUZUD web-site and online shop:
H.Pylori Antigen Rapid Test for Self Testing 
Written by Liubov Kyrychenko, edited by Goh Jing Yuan
---
About Buzud (pronounced ['bʌzud])
Established in 2006, BUZUD Singapore provides medical and healthcare services by developing and manufacturing HSA-approved medical equipment to ensure that every healthcare need is met. BUZUD is committed to raising awareness of the importance of personal health management in order to mitigate health risks that can affect quality of life. Our aftercare service offers replacements within 24 hours as part of our service excellence.
Buzud retail is located at 585 North Bridge Road, #01-02, Raffles Hospital.
Opening hours: Monday to Friday 9am to 6pm, Saturday 9am to 5pm. Closed on Sunday.
Tel: 65189959  Email: customercare@buzud.com  Website: www.Buzud.com