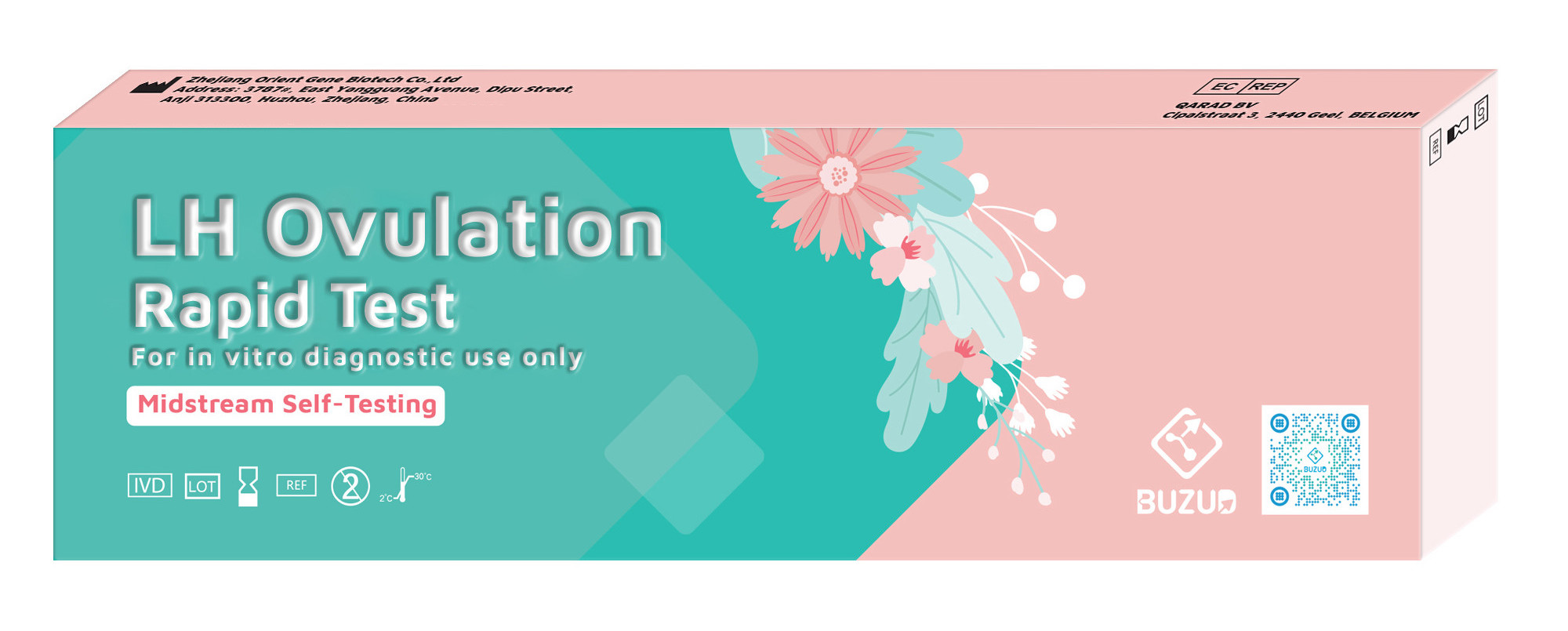 Singapore's BUZUD announces launch of LH Ovulation Rapid Test kits for self-testing
[Singapore, 12 December, 2022] – Singapore's based manufacturer of medical devices and appliances BUZUD, announces launch of LH Ovulation Rapid Test for Self-Testing, designed and produced in 3 configurations: midstream, cassette type and strip type. LH Ovulation Rapid Test is a rapid, one step test for the qualitative detection of Luteinising Hormone (LH) in urine, to help you in detection of ovulation. 

Traditional methods to detect ovulation might be time consuming and fairly complicated, but yet the results would still involve a lot of guesswork. So, if you are trying to find out whether you are ovulating at all and when exactly do you have it, a test such as the BUZUD LH Ovulation Rapid Test for Self-Testing will help you to find the answers fast, easy and reliably. Besides, BUZUD LH Ovulation Rapid Test for Self-Testing kit allows you to conduct the test at your own comfort and convenience. 
Mostly, ovulation tests comes in handy when trying to conceive, as they allow you to detect your fertile window, knowing which helps to increase your chances to conceive. The LH Ovulation Rapid Test for Self-Testing kit is FDA approved and more than 99% accurate based on clinical evaluation. 
The LH Ovulation Rapid Test detects LH in urine at a concentration 25 mIU/mL or greater. The test has been standardised to the W.H.O. International Standard.

 
In order for pregnancy to occur, the egg must be fertilised by the sperm within 24 hours after its release. Immediately prior to ovulation, the body produces a large amount of Luteinising Hormone (LH) which triggers the release of a ripened egg from the ovary. The LH Ovulation Rapid Test detects the LH surge happening, signalling that ovulation is likely to occur in the next 24-36 hours. The test utilises a combination of antibodies including a monoclonal LH antibody to selectively detect elevated levels of LH.
To perform the LH Ovulation Rapid Test you should carefully follow the steps described in the instruction pamphlet that comes with the kit. When you want to start testing, you will need to determine the day for you to start testing. If you are uncertain about the end date of your last menstrual period, it is recommended to start testing from the first suspected date and to test for 5 days and maybe more. It is not recommended to use the first morning urine specimen for ovulation testing. You may test using urine specimen from any other time of the day. However, if testing is to be performed over a few days, it is best if it is taken at the same time every day.
Prior to testing, collect the urine specimen in a container first, if testing with the LH Ovulation Rapid Test Cassette Self-Testing or the LH Ovulation Rapid Test Strip Self-Testing. It is best to allow the urine specimen to reach room temperature at around 15-30°C before applying it to the the Test window. Urine can be stored at room temperature for up to 8 hours. However, if the preferred type of testing is the LH Ovulation Rapid Test Midstream Self Testing, then it should be used directly during urination. Using this method, the subject must avoid urinating on the Test and Control windows, and urinate only on the Absorbent Tip for about 10 seconds until it's thoroughly wet.
After removing the midstream test from the urine, the Absorbent Tip should be immediately covered with the Cap, and the test placed on the flat surface with the Test and Control windows facing upwards and left aside for 10 minutes. The test results are ready in 10 minutes, and it is suggested to read it right away, and not to leave it for too long before reading the results. The design of the LH Ovulation Rapid Test is convenient, simple and hygienic to use anywhere and anytime.
The Storage of the BUZUD LH Ovulation Rapid Test kits is allowed until the expiration date, and the test should be kept only in the factory sealed foil pouch before use, and stored in room temperatures from 2°C to 30°C.
PROVIDES RESULTS IN ONLY 10 MINUTES
All 3 presented by BUZUD LH Ovulation Rapid Test kits are now available for sale, both online and in-store. For online purchase please refer to the following links on the BUZUD web-site and online shop:
Written by Liubov Kyrychenko, edited by Goh Jing Yuan
---
About Buzud (pronounced ['bʌzud])
Established in 2006, BUZUD Singapore provides medical and healthcare services by developing and manufacturing HSA-approved medical equipment to ensure that every healthcare need is met. BUZUD is committed to raising awareness of the importance of personal health management in order to mitigate health risks that can affect quality of life. Our aftercare service offers replacements within 24 hours as part of our service excellence.
Buzud retail is located at 585 North Bridge Road, #01-02, Raffles Hospital.
Opening hours: Monday to Friday 9am to 6pm, Saturday 9am to 5pm. Closed on Sunday.
Tel: 65189959  Email: customercare@buzud.com  Website: www.Buzud.com