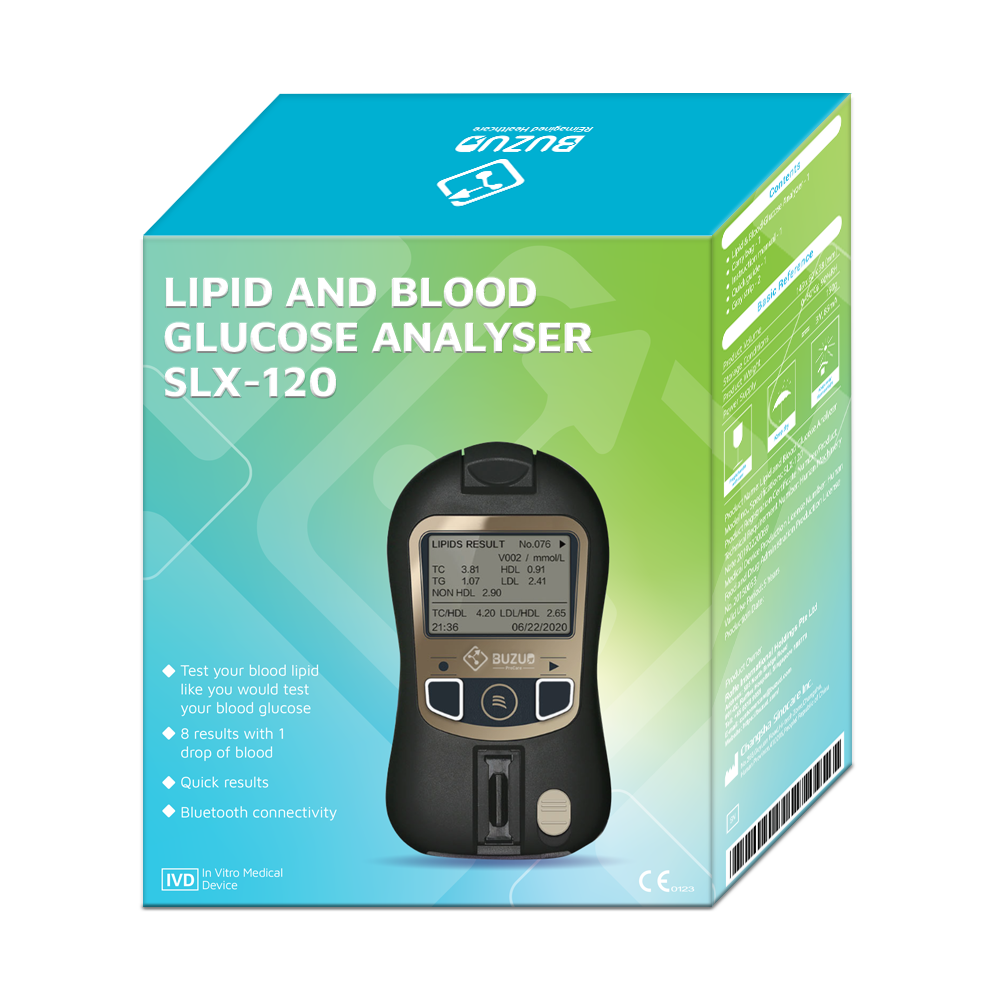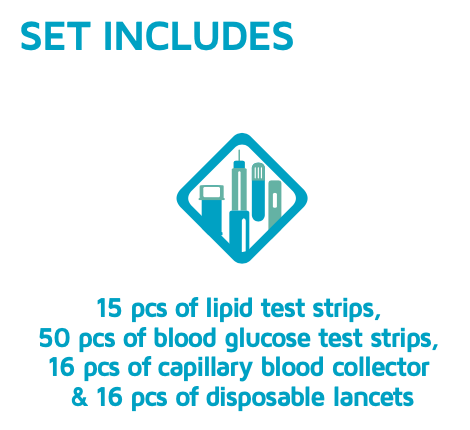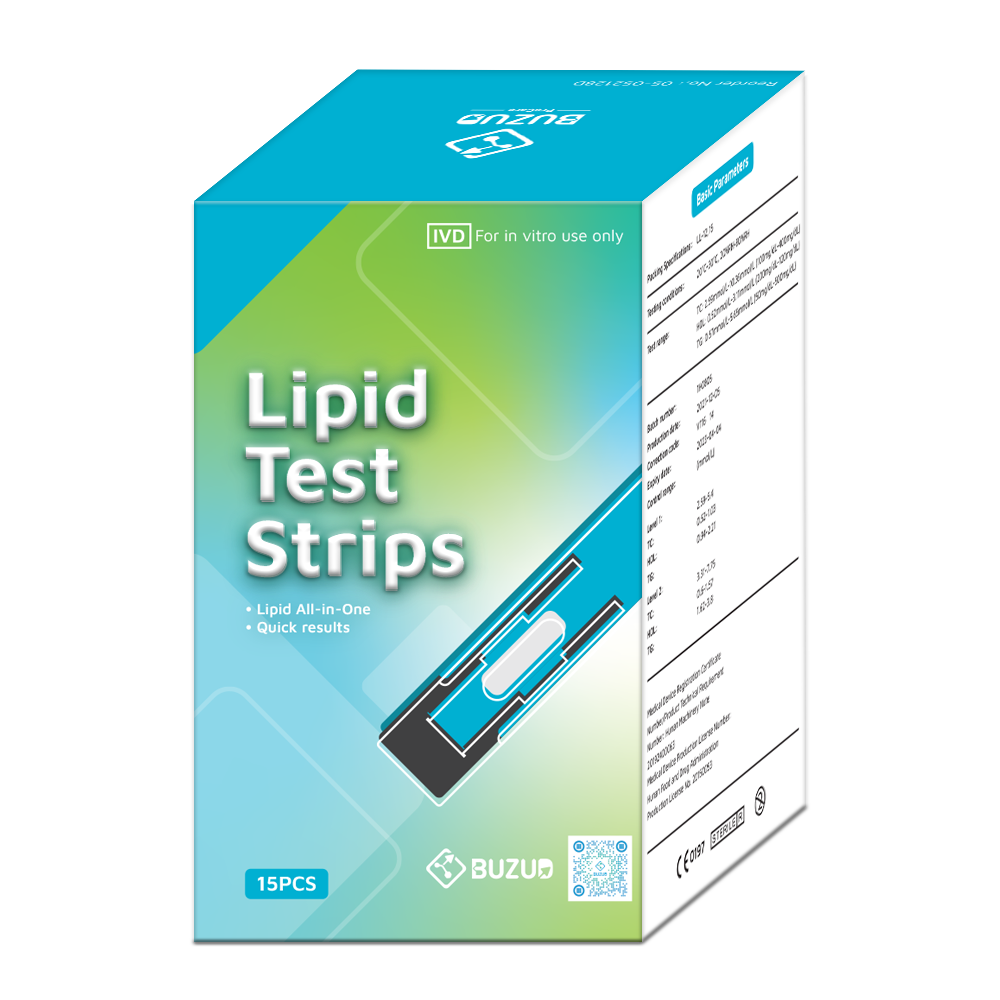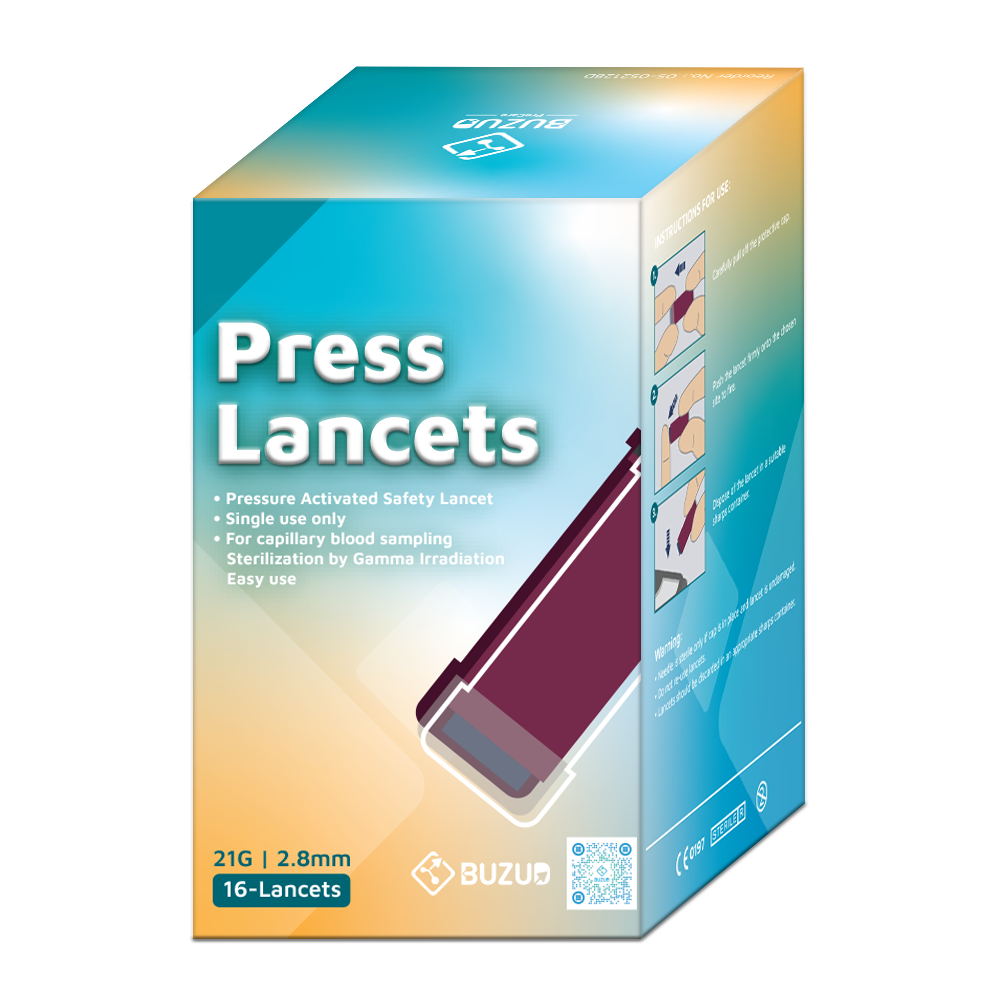 Memory: 200 sets (200 blood lipid, 200 blood glucose) of blood measurement results, 50 sets (50 blood lipid, 50 blood glucose) of control solution measurement results
Grey test strip testing temperature conditions: 10 oC ~ 40 oC Please refer to the instruction manual in the accompanying test strips.
Blood lipid testing conditions: Please refer to the instruction manual in the accompanying test strips.
Software version: V01
Manufacture date: Please see label
Expiry date: 5 years
Cybersecurity (if applicable): Data interface: The Bluetooth function is designed based on the Bluetooth Low Energy standard. After the device is connected with other Bluetooth-enabled devices, data can be transmitted between devices.
SET INCLUDES
15 pcs of lipid test strips
50 pcs of blood glucose test strips
16 pcs of capillary blood collector
16 pcs of disposable lancets
FEATURES
Bi-functional device
8 results with 1 drop of blood
Fast testing time
Bluetooth connectivity
SPECIFICATIONS
Test Samples: Please refer to the instruction manual in the accompanying test strips.
Sample type used for calibration: Venous plasma
Blood volume for blood glucose test: 0.8µL
Blood volume for blood lipid test: 40µL
Measurement Range:
Total Cholesterol: 2.59 – 10.39 mmol/L (100mg/dL – 400mg/dL);
High-density Lipoprotein Cholesterol: 0.52 – 3.11 mmol/L (20mg/dL – 120mg/dL);
Triglycerides: 0.57 – 5.65 mmol/L (50mg/dL – 500mg/dL);
Blood Glucose: 1.1 – 33.3 mmol/L (20mg/dL – 600mg/dL);
Blood glucose testing time: 5 ±1s
Blood lipid testing time: ≤100s
Blood glucose calibration curve: Automatic selection of test curves
Blood lipid calibration curve: Saved in card chip with the same code as the accompanying test strips
Equipment type: Handheld device
Power source: 4 AA alkaline batteries
Voltage: DC 3V (4 AA alkaline batteries, connect in parallel then in series)
Current: 85 mA (SLX-120), 75mA (SLX-121)
Display: LCD dot matrix screen, 190 x 128 resolution
Dimensions: 49 x 82 x 38mm
Weight: 150g (excluding batteries)
REimagined Healthcare with
BUZUD Care Experience:
585 North Bridge Road,
#01-02 Raffles Hospital,
Singapore 188770
Call: +65 6518 9959
Email: customercare@BUZUD.com
BUZUD is a Singapore Healthcare and Aesthetics brand.
CERTIFICATION
This product supported by Fosun Trade Medical Device, is approved by Singapore Health Sciences Authority (HSA), and is also widely approved by health authorities globally.
DISCLAIMER
Information provided herein is not intended as dispensing medical advice(s). User(s) should consult their doctor for any doubt or to seek further clarification prior to use of the said product.
User(s) is / are advised to refer to the product manual provided for more details and instructions of use. We shall not be held responsible for all informations presented herein which is merely consolidated as a product overview with descriptions in general.
All images presented herein are for illustration and visual purposes only, and may varied from the final product delivered. Actual specifications, weight, and prices of the product may deviate, and subjected to change(s) at any time.